Phantom Billstickers National Poetry Day reveals phenomenal line-up of events for its 25th year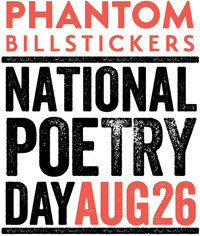 Aotearoa's favourite annual poetry fixture, Phantom Billstickers National Poetry Day, turns 25 this year, and to celebrate poetry fans from around the motu have organised a plethora of exciting events for the big day on 26 August 2022.
Announcing the 2022 calendar today, poet and New Zealand Book Awards Trust spokesperson Richard Pamatatau says, 'There is so much to get excited about this year with an amazing line-up of well over 100 events planned nationwide. We're thrilled to see a record number of schools and student groups participating, and we look forward to being inspired by new voices and a new generation of poets in the making!'
Poetry will hit the streets, appearing on beaches, on pavements and on public transport. Bookshops, marae, universities, hospitals and libraries will all be hosting events such as book launches, poetry slams, readings, workshops, open mic nights, and performances. And poets participating will range from rangatahi to some of the country's most established and familiar voices.
The country's new Poet Laureate will also be announced by The National Library of New Zealand Te Puna Mātauranga o Aotearoa on Phantom Billstickers National Poetry Day on 26 August.
There will be plenty of opportunities for poets to put pen to paper in the many competitions that are happening both in the lead up to, and on Friday 26th August across the country. Competitions will run online, at schools, libraries, and even on the sand at Orewa Beach. To find out more and enter these competitions, visit the full Competition Calendar.
This year also marks a special milestone for National Poetry Day's steadfast sponsor, Phantom Billstickers. '2022 is a significant year for us as we celebrate our 40th birthday,' says Phantom CEO Robin McDonnell. 'To share this with National Poetry Day as it marks its 25th anniversary is even more special. As huge supporters of the creative arts in this country, we are thrilled to be a part of this much-loved event.'

'Poetry should be as much a part of our daily lives as sport is, or politics, or the weather forecast, or gossip about celebrities. As communal and skill-affirming as sport, as urgent and necessary as politics, as relevant and helpful as the weather, as fun and sneaky and silly as celebrity gossip. Phantom Billstickers National Poetry Day is a celebration of this artform that belongs to all of us, and street poetry reinforces that. What better use could there be for a billboard? Poetry to the people!' – Joanna Preston, winner of the Mary and Peter Biggs Award for Poetry and the 2022 Ockham New Zealand Book Awards
The full programme of Phantom Billstickers National Poetry Day events can be found on the website, but some highlights include:
International: Featuring readings by some of Aotearoa's and Australia's leading contemporary poets, AUS-NZ Showcase returns for an online evening event not to be missed! Listen to musician and songwriter Marlon Williams, as well as winners and shortlisted poets from the 2022 Ockham New Zealand Book Awards Joanna Preston, Nicole Titihuia Hawkins, Anne Kennedy and Serie Barford as they celebrate the strong poetic-bond between the two countries. We also delighted to celebrate National Poetry Day with Berlin and Honduras in Central America, with an evening of poetry and a heart-warming competition. More details here.
Nationwide: David Merritt is back again with up to 30 of his much-loved poetry bricks popping up in various venues around the country!Check out the Calendar for details. There's bound to be one near you.
Northland: Free entry and open-to-all at the Kohukohu Library Poetry Competition and in Whangarei, the launch of Fast Fibres 8, Northland's own poetry anthology.
Auckland: We are thrilled to share the love of poetry with the Auckland Writers Festival this year: STREETSIDE: BERESFORD - beautiful words inspire musical interpretations as the four 2022 Ockham New Zealand Book Awards poetry finalists, including poetry award winner Joanna Preston, pair up with talented musicians from the Ockham Collective in a magical evening event at Beresford Square. Intergenerational Play - Kevin Ireland, Anne Kennedy and Tayi Tibble come together to share work from their new collections.
Poetry Central at Auckland Central Libraries opens the floor for emerging poets, and Song and Poetry Thing on Waiheke Island will rock on into the evening!

Hamilton: Poetry Walk - 16 emerging poets take to the streets of Central Hamilton to share their poems. Follow the trail from venue to venue hearing amazing words at each one.
Wellington: Rangatahi come together in a Poetry Slam Workshop in Ōtaki; NZSA runs 25 Years - 25 Languages Open Mic Night, acknowledging 25 years of National Poetry Day and Indigenous Languages Decade; Poems Against Sustainability takes to the forest to discuss environmental concerns using playing cards; Magnetic Poetry Competition at Good Books challenges you to use magnetic words to create your own poem; and Kaishu fanclub at Wai-te-Ata Press uses letterpress type to inspire your own words!
South Island: Dunedin Central Library comes alive with The Music of Poetry as award-winning poets and emerging voices are accompanied by jazz musicians; Aotearoa Poet Laureate David Eggleton performs alongside Daren Kamali at the Mad Doggerel Cabaret; at Spring: Breakdown, Breakthrough in Christchurch's Tūranga, poets explore the big issues of the moment; and in Oamaru, street poetry rules the day with Haiku Pavement Poems!