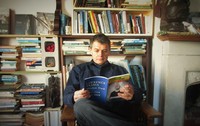 ---
Writing competitions are a great way to encourage your community to get actively involved with Phantom Billstickers National Poetry Day! You might wish to run a competition for your town, region, or even the whole country. If you decide to run a competition, make sure you are prepared to run and promote the competition as early as possible. You should allow at least six weeks for entries to be prepared, and give as much notice as possible to potential participants.
Competitions require careful planning and organisation. Organisers often underestimate the number of entries they will receive, so make sure you have the resources to manage and process the demands of a competition before committing to organising one.
If you are organising a Phantom Billstickers National Poetry Day competition, you will need to consider:
Who will process entries and forward them to judges?
Who will judge the competition?

Will they need to be paid for their time?
Are they going to be available to deliberate and reach a decision when needed?

What will be the timeframe for submissions and judging?
Will there be a range of categories/age groups/themes?
Will it be open nationwide (and promoted nationally) or will it be a regional competition?
How will the winner(s) be announced and when? e.g. in your local newspaper and/or at a local event on

Phantom Billstickers

National Poetry Day?

What kind of prize will be offered?
Will the winning poems be published somewhere?
How will copyright issues be managed?
Will copies of unsuccessful poems be returned to the poets?
Your competition must:
Promote the winners and winning poetry.
Provide participants with a sample of published, contemporary New Zealand poetry to read for inspiration.
Seek a high participation rate.
Be open to email submissions.
Download the template for your Competition Calendar Blurb.