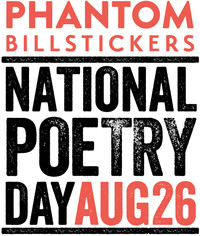 ---
Welcome to 2022's Phantom Billstickers National Poetry Day Competitions Calendar! Here you'll find the details of the wonderful competitions that are happening in 2022 - regional, nationwide and online, for children and adults. There will be opportunities galore to put your pen to paper and release a poem out into the wild!
We will be updating the calendar throughout the next month with new competitions as they come in, so please keep checking back! Rock on Phantom Billstickers National Poetry Day, 26 August 2022!
---
NATIONWIDE
---
NORTHLAND/KAIPARA
---
---
AUCKLAND
---
WAIKATO

---
---
BAY OF PLENTY/ROTORUA
---
MANAWATU/WHANGANUI
---
---
WELLINGTON/KAPITI COAST
---
NELSON/MARLBOROUGH
---
---
WEST COAST
---
OTAGO
---
Bell Hill Apartments Poetry Competition
In conjunction with Phantom National Poetry Day 2022 we invite entries to our annual poetry competition. 2022 theme is the name of one of our heritage apartments:
"GAYNOR CLAYTON"
Winning poem $200
Entry details: Free entry. Poem to be 150 words maximum, submitted by PDF email, A4 page, double line spacing. Open to people residing in New Zealand. Submit one original entry only.
Information about Sarah Gaynor Clayton can be found online. The poem does not have to be strictly about her. All poems within the rules will be accepted. Entries will be blind judged by writer, poet, artist Colette O'Kane.
The Judge's decision is final, and no correspondence will be entered into. Please type poet name, email address, phone number, word count on same page - this information will not be part of poem word count.
Winning entry will be added to the Bell Hill Apartments Welcome Book with author acknowledged. Winning poem announced in the afternoon of 2022 National Poetry Day.
Submission Dates: Open from 1 July 2022 – closing 5pm, 29 July 2022. Submission by email only, please PDF before attaching.
Email entry to: fliss@newheritage.co
Further information: Instagram:bellhillapartments and newheritagenz twitter:@LiteratureAlive @NewHeritageNZ. Sponsored by www.bellhillapartments.co.nz and www.newheritage.co
---