We need you! Register your events for National Poetry Day 2021!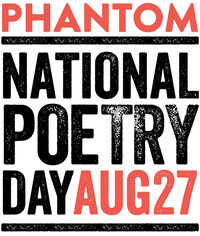 It is time!
Are you ready for Phantom National Poetry Day? We have a date of 27 August 2021 and now we need you, and your events!
Phantom National Poetry Day is a celebration of poetry and New Zealand poets, held throughout the motu. A day to make poetry accessible and inclusive. We encourage poets to conceive and celebrate through diverse events: from online billboards to poetry competitions inscribed on the beach, from handing out free poems to larger events like workshops, readings, and book launches.
Last year's celebration proved that poetry will shine through even the toughest conditions. Our online and socially-distanced celebrations were a triumph. This year we are expecting a return to more in-person events, but know that New Zealand poets have the resilience to make Phantom National Poetry Day 2021 a massive success whatever the circumstances!
Do you have a great idea, but you're not sure what to do with it? Contact your local library, school, bookclub, theatre or art centre and encourage them to participate or collaborate. All registered events and competitions with the NPD logo benefit from our media coverage, website event calendar, and promotion on social media. You can also apply for seed-funding!
Let's get underway! Unleash your passion for poetry and register NOW!