Phantom Billstickers National Poetry Day 2018 - An Outstanding Success!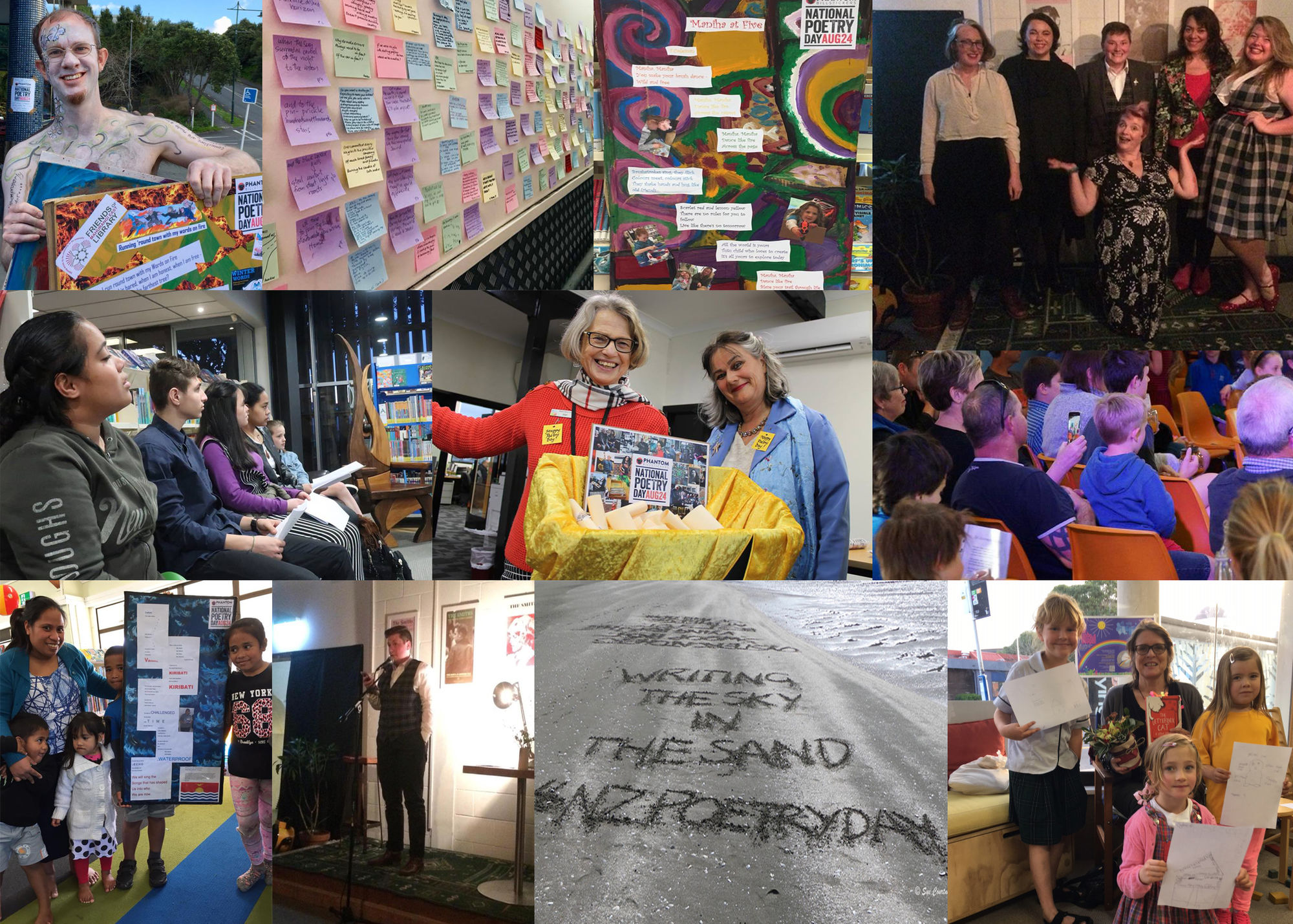 Phantom Billstickers National Poetry Day 2018 hit New Zealand with the largest national tally of events ever, a whopping 150 events. Encompassing numerous 'warm-up' and 'wrap-up' events in the days before and after, Friday 24th August itself was an extraordinary day of broad reaching and diverse poetry celebrations. The event spread extended from Kawakawa in the far north, down to Dunedin, in the North Island west from Taranaki to the East Coast, and in the South Island from Greymouth across to Christchurch, embracing coastal areas such as Nelson and Kaikoura and central towns such as Alexandra. This included around 60 cities, towns and online locations, both nationally and internationally, many of these with multiple events.
We saw poetry written on beaches, painted on live models dressed in wearable poetry art, read out by people of all ages and backgrounds, carried on scrolls through townships and handed to the public, decorating walls on coloured sticky notes and performed on trains. Poetry reached every age, with events in rest homes, workshops and competitions for students, a kids' pentathlon of poetry heats and even an online musical poetry event for pre-schoolers and their families. In shops, libraries and on the street people greeted each other with 'Happy Poetry Day'. Phantom Billstickers National Poetry Day saturated social media, trending on Facebook and Twitter, and could be found in newspapers, websites and radio – even featuring on talk back! We saw stunning Phantom Billstickers poetry posters decorating towns and cities across the nation. In addition to the wonderful sponsorship from Phantom Billstickers, a Creative New Zealand grant enabled us to involve winner and finalist poets from the 2018 Ockham Award for Poetry. These high calibre poets travelled and participated in numerous events, giving people the chance to meet them and experience their work first hand. This was an extraordinary year, proving that New Zealand poetry is flourishing. Poetry is hot!
Here are some words from 2018 NPD organisers:
'[Our event] was a smashing success, with a fabulous international cast of readers aged 11 to 91 - we had a ball!
'It was so amazing! There were so many excellent events and people were really getting into it. Let's make it even bigger next year!'
'[Our event went f]antabulously well. People are still raving and the newspapers are writing lovely articles.'
'It was awesome. This is the 5th time we have hosted the open mic and poetry competition and it is just getting better every year.'
'It was great - loved being greeted in the street with "Happy Poetry Day" - showing how effective the reach of messaging was. At our teen's secondary school they spent their English class writing Hikau or finding poems they liked on-line. Congrats on a successful Phantom Billstickers National Poetry Day! Thank you NPD team, thanks Harley for superb efficiency and Phantom - a big bouquet.'