Interviews with the Organisers: The Making of FLOCK
The poet behind one National Poetry Day event interviews the poet behind another. Anna Forsyth lightly grills Genevieve McClean.
Genevieve McClean is the director of FLOCK, an ensemble poetry show that draws on physical theatre traditions in a percussive site-specific performance set to hit the stage in Central Auckland on National Poetry Day. Genevieve McClean is an actress, a documentary filmmaker, voice and performance coach, and a spoken word artist, who has performed in New Zealand and overseas. Most recently she performed as Pistol in Henry V at the Globe Pop Up Theatre. She is also the feature poet at Auckland's National Poetry Day wrap-up celebration Girl Talk, where there's an open mic waiting for anyone wanting to share their words. Girl Talk is where Anna Forsyth comes in. Anna Forsyth is a kiwi poet who has been running a monthly poetry reading in Melbourne called Girls on Key and with Girl Talk she's bringing the event home to New Zealand for National Poetry Day. She asked Genevieve a few questions about the making of FLOCK and sent us the results.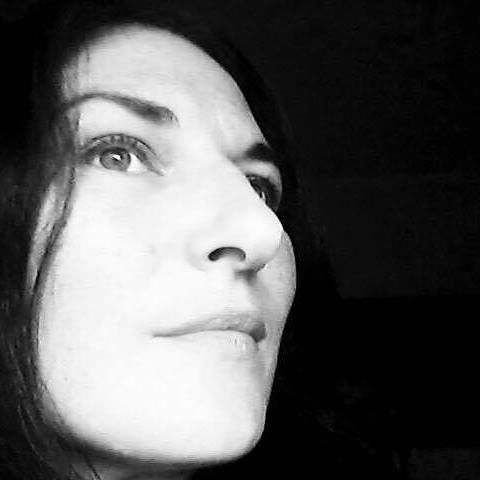 [Genevieve McClean - self-portrait]
[A.F] Tell me a bit about FLOCK, the show you are directing for National Poetry Day. How did you get the kernel of the idea for this show?
[G.M] FLOCK is interdisciplinary. So it's dance and theatre poetry performed by poets. I'd had a desire for a long time to invite poets to work with a theatrical process. Even though I am the director, it's been a poetry-centric process and the poets are the authors of their own work. Once I chose the space I imagined all the other elements developing from the poems in a site specific way. It's the third time over the last eight years that I've directed a show that relates to the history of the space that it's in. I've directed the process, but the poetry has directed me, if that makes sense. It has been an intuitive approach.
FLOCK is also an opportunity to get a group of poets together and boss them around a lot. No seriously, it's been a short rehearsal time, and I have made them jump through certain actor and theatre hoops. On the whole they've been very accommodating! We have created a physical vocabulary between us, using some aspects of butoh, and experiences I've had in voice, and physical theatre disciplines. We say it is 'informed by butoh', it's not perhaps deep butoh, but all butoh dance is quite open to interpretation. I'm thrilled that it's coming together as it is.
[Butoh is a form of Japanese dance theatre... read more on Wikipedia]
What fascinates you about working across different disciplines, such as dance, theatre and poetry?
I was always driven by wanting to do the thing that was new. The new is often a merging of forms into a hybrid. Dance and poetry are actually quite close, closer perhaps than theatre and either form are. Dance is abstract, and allows for the performance to exist in that post-structural place where it sets on arriving with the audience. I was introduced to the concept of postmodernism at university when I was seventeen. At the time I was living with a blues band in Ponsonby. Thanks to a teacher at Auckland Uni, Roger Horrocks, I entered a contemporary school of thought that looked at original approaches to words across forms. I was delighted, and two years later I was in Dunedin singing in a band and studying theatre and directing and making sets and convincing the band to use more theatrical elements, and experimenting in all directions. That was 1993, and so much has happened since then you'll have to wait for the book.
What were some of the challenges putting Flock together? It is quite a groundbreaking work. Would you do it again? What would you do differently?
I like to think it will be groundbreaking. It's certainly going to be unprecedented. I always want to give people those experiences that I had when I was shown something new and it made me remember it. I would like to do a work along these lines again, maybe with other elements, maybe with a bigger group.
Visit the 2016 Calendar of Events to find a National Poetry Day activity near you.