Celebrating our Ockham Poets: Q & A with Tusiata Avia, winner of the Mary and Peter Biggs Award for Poetry
Born in Christchurch in 1966, Tusiata Avia is an acclaimed poet, performer and children's writer. Her first poetry collection, Wild Dogs Under My Skirt (2004) was also staged as a theatre show, including Off-Broadway, where it won the 2019 Outstanding Production of the Year. This was followed by Bloodclot (2009), the Ockham-shortlisted Fale Aitu | Spirit House (2016), and The Savage Coloniser Book (2020), which won the Mary and Peter Biggs Award for Poetry at the 2021 Ockham New Zealand Book Awards. Avia held the Fulbright Pacific Writer's Fellowship at the University of Hawai'i in 2005 and the Ursula Bethell Writer in Residence at University of Canterbury in 2010. She was the 2013 recipient of the Janet Frame Literary Trust Award, and in 2020 was appointed a Member of the New Zealand Order of Merit for services to poetry and the arts.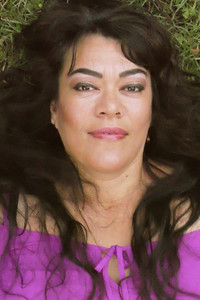 1) How do you think social media has changed the way people read, watch, listen to and/or discuss poetry?
Poetry gets a wider audience these days, spoken word in some shape or form has made its way into the world, into popular culture, into teenagers' tik toks. I am no social media maven – my 13 year old daughter can attest to that – but poetry moves in a zillion ways through the complicated and mysterious byways of the social. I listen to some poetry online and love writing podcasts. I'm also pretty O.G. so I still like to be kanohi ki te kahohi with the physical paper body, preferably in bed.
2) How do you find the poetry community altered by the pandemic? Has this had a large effect on your writing?
NZ's lockdown stopped me dead in my tracks, I was totally frozen, couldn't write or think about writing. Some writers I know wrote hard out. I think it probably had a lot to do with what state your household and your head were in at the time. I work from home so I couldn't bear the almost total isolation from the outside world – cafes etc – where I go to escape home. Some writers with very busy jobs in the outside world experienced lockdown as time and space to write. For others of us it was pure creative hell.
As far as the pandemic in general, of course there are a whole bunch of things that happen via zoom etc, which has up sides and down sides. The up sides are obvious; workshops, readings etc are easily accessible wherever you are in the world. But I really miss the personal and social aspects of it. We are super lucky in NZ because we can still – mostly – have poetry festivals etc. But I do miss teaching workshops in person, especially in schools.
3) How would you describe your kaupapa as a poet?
I've never been asked that question before. The best feedback I get from people – who read or watch my poems as theatre – is what Afua Hirsch called 'the voice of communal consciousness' (see number 5). This is not what I set out to do, this would be presumptuous and bizarrely arrogant – but when it does express what other people (particularly Pacific and POC) experience, I feel like I doing the right thing.
I don't have a Kaupapa as such – nothing I've thought out beforehand. It's all: make it up as I go, learn as I go, find out, fail, give up, start again as I go. I learn about writing and myself, what I believe (and let go of believing) and the world as I go.
4) How does your shortlisted book reflect, redefine or depart from the concerns and subjects of your previous work?
The Savage Coloniser Book is probably the most 'current' book I've published. While everything I write is me responding to the world at some level, this book happened to be a particularly 2020 book, responding to some of the big things that went down last year. In saying that, the big things I write to in this book are age old: colonisation, racism, illness. I am effected by and responding to those things all the time.
5) What contemporary poets are you reading right now? Poetry collections on your bedside table?
A Portable Paradise by Roger Robinson has been beside my bed for more than 6 months, I think. It's one I can't let go of. It starts with a long section on the Grenfell Tower burning – the 'UK's Hurricane Katrina moment': in that nearly all those who died, were injured, lost their homes were people of colour – the marginalised in one of the most wealthy areas in London. Someone has called it 'the voice of our communal consciousness'.
The other one: Hurricane Season by Fernanda Melchor is a novel but out-poetrys many collections of poetry I've read. It's sublime in just about every way – her use of language blows my mind. Best book of any kind I've read in years.
6) What role do you see for celebrations of poetry like Phantom National Poetry Day?
I am a huge fan of Phantom and their support of poetry. Big respect to the big cheese, Jim Wilson and his love of poetry and determination to spread the word far and wide!
I love that poetry gets a national day – it should be a national holiday, we should have poetry parades and ceremonies and songs and prayers and readings on every street corner. Poetry should be televised like rugby. We should give poetry presents, have poetry dinners, have a poetry tree or shelf or pile that we decorate with more poetry.
7) you discovered new poets or new poems on one of Phantom's poetry posters? How do you feel about getting poetry out to the community in this way?
Phantom has plastered poetry posters all over Aotearoa, around the USA, in Barcelona, Tokyo, Amsterdam – those are just the places that I know of. I love everything about this. Long may Phantom poetry posters reign.