Celebrating our Ockham Poets: Q & A with Mohamed Hassan, finalist in the Mary and Peter Biggs Award for Poetry

Celebrating our Ockham Poets:
Q & A with Mohamed Hassan, finalist in the Mary and Peter Biggs Award for Poetry
Mohamed Hassan is an award-winning journalist and writer from Auckland and Cairo. He was the winner of the 2015 NZ National Poetry Slam, a TEDx fellow and recipient of the Gold Trophy at the 2017 New York Radio Awards. His poetry has been watched and shared widely online and taught in schools internationally. His 2020 poetry collection National Anthem was shortlisted for the Ockham New Zealand Book Awards.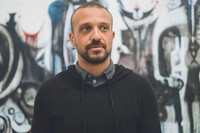 1) How do you think social media has changed the way people read, watch, listen to and/or discuss poetry?
Social media has changed everything about how we interact with one another, but also how we share and consume literature. In my early career I spent a lot of time discovering diaspora poets online that really influenced my outlook on what writing could accomplish for me personally. More recently I've been able to use online platforms to share my work to audiences around NZ but also globally, and the responses I've received have been overwhelming. Through these mediums I'm able to interact with readers who respond and interact with my poems in ways that wouldn't be possible at readings or festivals.
2) How do you find the poetry community altered by the pandemic? Has this had a large effect on your writing?
The pandemic has upended almost all aspects of our lives, and a big casualty has been the physical spaces our community has always revolved around - whether through poetry slams, open mics or meet ups with other writers. Online alternatives have sprung up in their place, but have often felt tiresome and inauthentic, but they've allowed these connections to not be severed, and that's been important to myself and others. I'm learning now how to be a writer in isolation - something I wasn't quite used to before, but a necessary practice to learn nonetheless.
3) How would you describe your kaupapa as a poet?
I've always been driven by an urgency to speak on issues I observe in my own communities and in the current world we exist in, and that has instructed my writing. I write from a place that seeks to challenge the narratives we often taken for granted in our society, but that I feel more acutely as a Muslim, an immigrant, a journalist and an artist. I also write because it's the only thing that often makes sense to me, and that's probably a more honest answer.
4) How does your shortlisted book reflect, redefine or depart from the concerns and subjects of your previous work?
National Anthem is an ongoing exploration of displacement and belonging - two themes that have always instructed my poems. At this moment in my writing, I've been challenging myself to look backwards and sit with some of the memories that have survived the journey here with me - bittersweet and haunting but ultimately tools for my own growth. If I succeed, then I'm able to document an experience others can connect to and share in their own journeys.
5) What contemporary poets are you reading right now? Poetry collections on your bedside table?
The poets that I'm drawn to are ones that write from a profound sense of place and urgency. In Aotearoa they are Tusiata Avia, Dominic Hoey and Tayi Tibble. Abroad they are many of the Arab and Middle Eastern diaspora poets like Solmaz Sharif and Fady Joudah. It's a strangely exciting time for poetry right now, and I'm thankful for it.
6) What role do you see for celebrations of poetry like Phantom National Poetry Day?
With the wealth of poetry that lives with us in New Zealand right now, we must celebrate it all loudly and in public. I want our national consciousness to be imbued with the words of our writers, to have poems that echo in our hearts and help us understand ourselves as a society. To celebrate them is to celebrate our stories, to allow them to shape us.
7) Have you discovered new poets or new poems on one of Phantom's poetry posters? How do you feel about getting poetry out to the community in this way?
I'm always giddy to stumble across a Phantom poster with a poem that I recognise by a writer that I love - but even more when I'm introduced to something entirely new. I like to think there are a troupe of people falling in love with poetry on the sidewalk or sitting in rush hour traffic - and reading a line that will stay with them for life.