Celebrating our Ockham Poets: Q & A with Jackson Nieuwland, Winner of the MitoQ Best First Book Award

Jackson Nieuwland is a genderqueer poet. Their first book of poetry, I Am A Human Being, was published by Compound Press in 2020 and won the 2021 Jessie MacKay Prize for Best First Book of Poetry. They run Food Court Books, a bookshop dedicated to small and independent publishers, with their partner Carolyn DeCarlo. They are tired af.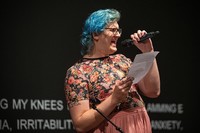 1) How do you think social media has changed the way people read, watch, listen to and/or discuss poetry?
I believe that social media has made poetry more visible and accessible. However not all poetry is suited to social media. The poetry that thrives on social media tends to be brief and easy to digest, as that is the kind of content people normally go to social media for. This is by no means a criticism. A lot of the work in my book fits that description and making my writing accessible was a priority of mine in writing the book. However, forms of poetry that depend on length and accumulation, that don't have suitable pull-quotes, or demand the reader spend more time with them, have not seen the same boost in attention from social media.
2) How do you find the poetry community altered by the pandemic? Has this had a large effect on your writing?
The community stayed really strong over lockdown. Events that would normally have happened in person (like Pegasus Books' reading series) moved online, and new publications popped up that wouldn't have existed without the pandemic (like Stasis, Saltwater Love, and Stay Home Diary by Bitter Melon苦瓜). Bookshops also got a lot of support in the form of online orders.
I remember the first event I went to after we were allowed to congregate again was a reading at Wellington City Gallery. The poetry was amazing (I remember Sinead Overbye read a particularly impressive poem), but what had the biggest impact on me was how strange and wonderful it was to see so many good friends again all at once. Everyone had come out for the occasion and it was such a joyous moment.
It's hard to say what effect the pandemic had on my own writing. It definitely gave me more time as I didn't have to go to work during lockdown, but with all the uncertainty and emotional weight that period held I wasn't able to use the time to work on anything in a concentrated manner. I wrote a lot of notes and snippets, which is not so different from what I do normally. I did keep a diary for part of lockdown, an excerpt of which is available to read on my website.
3) How would you describe your kaupapa as a poet?
I wouldn't say that I have a very well defined kaupapa to be honest. I don't feel like I have one overarching goal of what I want to achieve with my work. I follow my whims and tend to jump around a lot, from project to project, idea to idea. I don't have a lot of patience for perfecting and polishing a particular style. I like to jump into new things. That's probably why it took me so long to finish writing a book.
One thing that is very important to me is creating work that will mean something to other trans and non-binary people. It was through reading the work of trans poets that I learnt the concepts of non-binary gender and came to terms with my own identity, so I hope that my work can pass that along others.
4) Do you feel your shortlisted book reflects, redefines or departs from the concerns and subjects of your previous work?
Well, my book didn't quite make the shortlist, but I was lucky enough to win the best first book award. Seeing that it is my first book, there's not exactly a body of previous work to compare it with. I worked on the book over the course of ten years. In some ways the work changed massively over that period of time and in others it stayed almost exactly the same. The most important thing that happened was that about halfway through the process I realised that I am genderqueer, which really helped me figure out what the work was actually about.
Moving forward, I expect my writing to only get weirder. While I'll probably keep writing about similar things, I want to play more with language, form, and layout, and really push what poetry and books can be.
5) What contemporary poets are you reading right now? Poetry collections on your bedside table?
The next two poetry books I'm planning to read are both debut collections: Tōku Pāpā by Ruby Solly and How To Live With Mammals by Ash Davida Jane. I'm also very excited for the release of Alison Glenny's second book, Bird Collector, later this year. And I just ordered a copy of That I Want, a chapbook by Ava Hofmann, who is not a New Zealander, but is a poet I hugely admire.
6) What role do you see for celebrations of poetry like Phantom National Poetry Day?
I see the main purpose of National Poetry Day being to bring poetry to people who don't engage with it on a daily, weekly, or even monthly basis. Poets and committed readers of poetry don't really need a specific day to focus on, but it's a good opportunity to reach new readers, some of whom will hopefully begin to engage more often. It's also a fun opportunity to bring poetry into spaces it doesn't always get to occupy: bus stops, beaches, zoos!
7) Have you discovered new poets or new poems on one of Phantom's poetry posters? How do you feel about getting poetry out to the community in this way?
The poem that really stands out to me among the Phantom poetry posters is 'Some notes for critics' by Tusiata Avia. I love how bold and straight up it is, and how that tone is amplified by it being presented as a poster. It's such a memorable work.
I would love to see Phantom commissioning more poetry that actively engages with the poster form. There's are a lot of interesting things that could be done with poetry in that context, separate from poetry on the pages of a book.