Celebrating our 2020 Ockham Poets: A Q&A with Helen Rickerby, Winner of the Mary and Peter Biggs Award for Poetry 2020
Helen Rickerby is the author of four collections of poetry, most recently How to Live (Auckland University Press 2019), which won the poetry category in the 2020 Ockham Book Awards. Since 2004 she has single-handedly run boutique publishing company Seraph Press, an increasingly important publisher, mainly of New Zealand poetry. Helen lives in a cliff-top tower in Aro Valley, and works as an editor.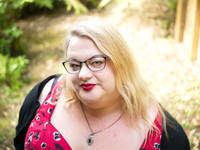 1) How do you think social media has changed the way people read, watch, listen to and/or discuss poetry?
While I used to spend a lot of time on social media, I don't so much now. Now I use it mainly to connect with my friends I already have. But I did get to know quite a lot of other poets and their work through blogging, back in the days when we blogged. These days the main thing is probably that social media is how I find out about poetry events and publications – often via Paula Green's Poetry Shelf blog. I know for some people the internet is where they find poetry, and it does have quite a democratising effect. For myself, I rarely read poetry online, because it feels uncomfortable to me – I think because of the concentration I feel it requires. I'm a bit old fashioned like that.
2) Has the COVID-19 lockdown (in NZ or the UK) had an impact on the way you work – and what you're writing?
It certainly has, in that I haven't been working on my current long-term poetry project at all, though I was working on that quite slowly anyway. I have instead been doing two main writing things. The first is keeping a lockdown diary in my journal – recording most days what I've been doing, how I've been feeling, what's been going on. Obviously not a lot of very exciting things have been going on (though we have found that you can have perfectly adequate dance parties via Zoom) but it has felt important for me to record this very strange time in order to remember it. And maybe also to remember that each day is slightly different to the others!
The other thing I have been writing are little essayish pieces for a collaborative blog project a friend set up. We're writing about songs that were on the New Zealand charts in 1990, which was not an especially stellar year for music in my opinion, though there are some classics. And, as well as the songs, we're writing about memories connected to the songs or the band or what was going on for us in that year. We also then comment on each other's pieces, adding our own related stories. It's been massive fun, quite addictive, and really for very little purpose – in an economic sense anyway. It's even outside the attention economy, because it's only for ourselves. I really like the idea of doing things for their own sake rather than for money or fame, which is probably why I'm attracted to poetry.
Like most people probably, I've been thinking a bit about the economy lately. One of the things about the lockdown is that we're doing it to protect human lives – making human lives more important than this abstract beast: the economy. Not to say that people don't need jobs and money, of course we need a way to get the things we need to live. But I think, or at least hope, what we're heading into is a time when we try to make the economy work for us, rather us all working for the economy. And this time is showing us what's really important – what we have and also what we miss.
3) How would you describe your kaupapa as a poet?
I wouldn't say I have an overarching philosophy or aim for my poetry, but there are things I care about. I care and about words and meaning, and I care about thinking and understanding, and I like the way you can combine all those things in poetry. I especially like how poetry is layered, so it can be complex and multi-faceted rather than simplistic or black and white. My poetry comes out of my own interests, and it's one of the ways explore them.
4) How does your shortlisted book reflect, redefine or depart from the concerns and subjects of your previous work?
With each of my books I've tried to develop my work – to try new things and not just end up writing parodies of my own poems – but I have also tried to build on what I've done before. And some of my interests and obsessions have stuck around for a long time and been combined in hopefully new and interesting ways. How to Live definitely continues my interest in biographical poetry and other people's lives (especially women's lives) that was a big part of my second book, My Iron Spine (HeadworX 2008). And it also has a lot of thinking things through – essaying – that I think I was starting in Cinema. I have also written prose poems before, but I was being pulled much more in that direction in How to Live – it gave me the voice I wanted to for what I was writing. (There's something about line breaks that change the voice and rhythm somehow, and that wasn't mostly what I wanted for this book.) And I was thinking much more consciously about philosophy than I had before in my poetry. Also, while there are quite a few short poems in this book, the bulk of the book is made up of a few very long poems. This is a direction I'm continuing in for what I'm very slowly working on now (or at least I was before lockdown) – I think at some point I will probably end up with a book-length single poem, but I'm not sure if that's the next book.
5) What contemporary poets are you reading right now?Poetry collections on your bedside table?
This is a terrible thing for a poet to admit, but at the moment poetry isn't what I've been drawn to read. Some people find poetry comforting to read, but I mostly don't. Poetry generally rewards heightened attention, and I have had limited attention for the last few weeks. During the lockdown I haven't been reading very much at all, and mostly the internet. But I have just finished reading a good old Victorian novel: North and South by Elizabeth Gaskell, and have started on biography about her. I seem to have a fascination with Victorians, especially Victorian woman writers. While I don't think Elizabeth Gaskell reaches the heights of George Eliot, who I have a long biographical poem about in How to Live, I am also not sure she reaches the depths that George Eliot does. And I think Elizabeth Gaskell would have been more fun to hang out with. I've also been reading essays, including some by poet Nina Powles (Tiny Moons). And, now that we can buy books again (online anyway), I've just ordered a book of poetry, Trees, the Trees, by American poet Heather Christle. I don't know her poetry at all, but I LOVED her non-fiction/essay/memoir/long prose poem The Crying Book, which a friend gave me for Christmas.
6) What role do you see for celebrations of poetry like Phantom Billstickers National Poetry Day?
In some ways I find it quite strange to have a day where people other than poets are interested in poetry, but it's really lovely. I enjoy the gatherings and readings that normally happen on Poetry Day – and hopefully can this year too (cross fingers – I am certainly looking forward to when real-life gatherings can happen again), and it's nice for poetry to get a spotlight once a year.