Celebrating our 2020 Ockham Poets: A Q&A with Ashleigh Young
Ashleigh Young is the author of two poetry collections, How I Get Ready (2019) and Magnificent Moon (2012), and the essay collection Can You Tolerate This?, which won a Windham-Campbell Prize from Yale University and the Royal Society Te Apārangi Award for General Non-Fiction in 2017. She works as an editor and lives in Wellington. She blogs occasionally at eyelashroaming.com.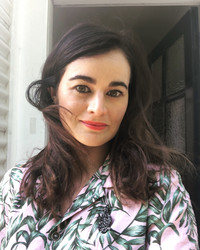 1. How do you think social media has changed the way people read, watch, listen to and/or discuss poetry?
There are more ways towards poetry, and more ways for it to find you. I guess it depends on how you've set up your feed – who you follow, what you're into – but I feel like I'm being bombarded by poetry from all angles, like I'm constantly losing a game of paintball, and I cannot recommend it highly enough.
I always hope that after encountering a poet's work on social media, readers go and read writers' actual books. So, perversely, I hope that they aren't quite satisfied by what they find online. I want people to always want more. I also want publishing to survive.
One indirect thing I've found is that sometimes tweets, status updates, even Reddit posts where someone is behaving terribly in a relationship – they feel like poetry to me. Often it's to do with an idiosyncratic use of punctuation and spacing. And a sharp observation, even revelation. Or it's a turn of phrase, or the juxtaposition of certain details. And the things the writer withholds and holds. Social media has helped me think about the weird, infinite textures of language and silence.
I see a lot of people discussing poetry online, sometimes with the author. Social media has brought us much closer to authors, for better or worse. But, even so . . . I often find I'm reluctant to find authors I love on social media. Especially when I am halfway through reading their book. I worry it will break the spell.
2. Has the COVID-19 lockdown (in NZ or the UK) had an impact on the way you work – and what you're writing?
At the start I was overtaken by this big swell of energy – it was to do with that sense of a huge shifting in the world, or a falling away of layers so that we could see what was underneath. I wrote a lot and then I just sort of stopped. And now, along with the rest of the world, I'm lost about what to do next. I'm questioning if I am able to write poetry anymore. I think the pandemic has forced a lot of reflection, sometimes a fearful reflection, sometimes a hopeful one. I realised I wasn't happy with the kinds of writing I was doing – mostly columns for a newspaper and the odd blog post. I decided to quit the column and a few other small side gigs, and write fewer emails, and give myself time to write what I'd really like to write.
3. How would you describe your kaupapa as a poet?
I'm being a bit literal here and thinking of my writing as a raft – it's held together kind of eccentrically, it isn't built for speed, and it can't take a heavy load. But it does travel! It's persistent. I know that my writing, especially my poetry, isn't for everyone but for those who choose it I want to keep them afloat and take them down some weird little canals that rafts probably shouldn't be going down. (Sorry, this analogy got out of hand.)
4. How does your shortlisted book reflect, redefine or depart from the concerns and subjects of your previous work?
This is a tough one to answer! My previous book was an essay collection titled Can You Tolerate This? and it talked a lot about family, my childhood, and the body. How I Get Ready is also pretty personal, though maybe it's a little quieter and more oblique about it. It's still grappling and struggling with adulthood (always with the grappling and the struggling). I wonder if this collection is more resolved in not having any answers. Maybe it's not fighting so hard. It still would like answers but it's not making any threats.
5. What contemporary poets are you reading right now? Poetry collections on your bedside table?
Sam Duckor-Jones, Hinemoana Baker, Ruby Solly, and Bill Manhire. I've also been revisiting Bernadette Hall's early books – I work as an editor at VUP, and we are publishing her Selected Poems later this year. I'm also reading the photographer Moyra Davy's book Index Cards and although it's a collection of prose pieces, it's a very similar experience to reading poems. The pieces are often fragmented and have a restlessness and an attention to detail and accident that feel like poetry to me.
What role do you see for celebrations of poetry like Phantom Billstickers National Poetry Day?
First of all, poets deserve parties. But mostly I see it as a place for writers and readers to come up for air all at once – to look around and see who's there. I like the atmosphere of poetry day. There's a feeling of, 'We've arrived!'