50 Yrs of NZ Book Awards: Celebrating our 2018 Ockham Poets with Tony Beyer



In the lead up to Phantom Billstickers National Poetry Day we're celebrating 50 years of New Zealand Book Awards with a Q & A from your Ockham 2018 finalists and winners.
---
Tony Beyer
2018 Ockham Poetry Finalist
---
Tony Beyer
has published fifteen collections of poems since 1971 and received the United States Tanka Splendor Award twice, as well as Australia's Jack Stamm Award. His latest collection
Anchor Stone
(Cold Hub Press, 2017) was shortlisted for the 2018 Ockham New Zealand Book Awards.
---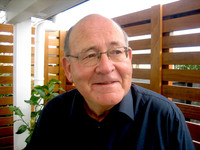 ---
Why do you think poetry is so hot right now?
Vigorous, young, male and female, Maori and Pasifika writers have focused on poetry as a field for relevant discourse.
Do you think that poetry can change lives and if so, how?
It certainly changed mine and I have led an enriched life as a result. Others should share this positive approach.
What would you say to people who think that poetry is elitist?
They're wrong.
Do you think that poetry has a duty to be political/apolitical?
Poetry has no duty to be anything. On the other hand, it does not exclude anything.
We grow up with poetry in our lives. How does poetry shape us?
Not just poetry: music, visual arts, theatre, dance, all enhance our humanity and give us greater existence. Any system which restricts access to such necessities is tyranny.
How can poetry break its 'hierarchical chains' and reach new communities?
The people own poetry, as they own democracy. They just need to access it for themselves.
Who are some NZ poets you think more people should be reading?
John Gibb, Stu Bagby, Briar Wood, Jane Simpson, John Allison, Keith Westwater, the late John O'Connor, David Howard, Anna Rugis and the late Jill Chan, and many others readers who take the plunge will discover for themselves.
This year marks 50 years of NZ Book Awards. How would you describe the value of the awards for our poets and our nation?
I don't think it has much to do with the actual writing, but it's pleasant to see poetry celebrated in this way. New Zealanders do write it astonishingly well.
---