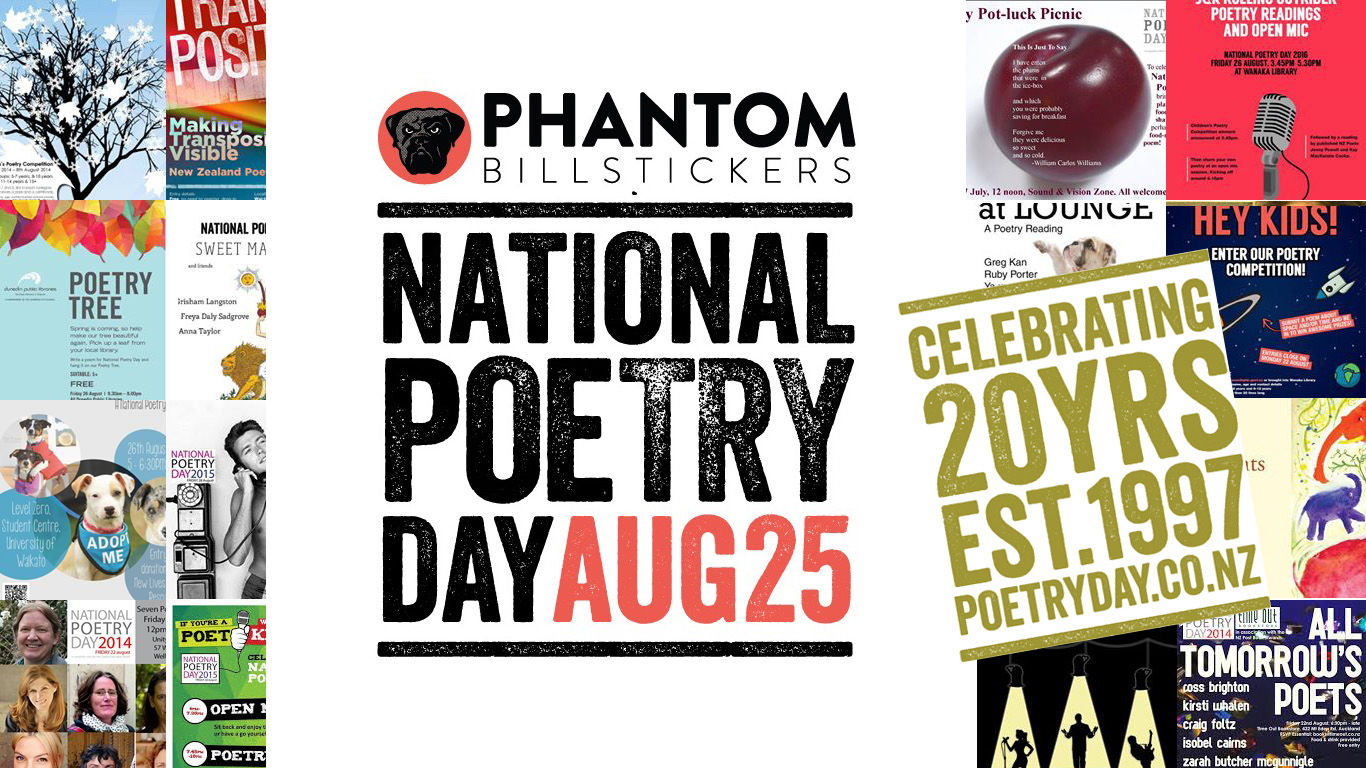 The 20/20 Collection
To mark the 20th anniversary of Phantom Billstickers National Poetry Day, we asked 20 acclaimed Kiwi poets to choose one of their own poems – a work that spoke to New Zealand now. They were also asked to select something by another poet they saw as essential reading in 2017. The result is the 20/20 Collection, a selection of forty poems that reflect the diverse and vibrant range of voices in our contemporary literature.

The final, complete collection is available below, or you can download the free electronic version via this link: The 20/20 Collection. Follow this additional link for our Teachers' Notes.
The 20/20 poets, paired with their choice, are as follows: Jenny Bornholdt/ Ish Doney, Diana Bridge/ John Dennison, David Eggleton/ Leilani Tamu, Paula Green/ Simone Kaho, Michael Harlow/Paul Schimmel, Kevin Ireland/ Gregory Kan, Andrew Johnston/ Bill Nelson, Bill Manhire/ Louise Wallace, Selina Tusitala Marsh/ Reihana Robinson, Cilla McQueen/ David Kārena-Holmes, James Norcliffe/ Marisa Cappetta, Vincent O'Sullivan/ Lynley Edmeades, Tusiata Avia/ Teresia Teaiwa, Richard Reeve/Michael Steven, Elizabeth Smither/ Rob Hack, C. K. Stead/ Johanna Emeney, Robert Sullivan/ Ngahuia Te Awekotuku, Apirana Taylor/ Kiri Piahana-Wong, Brian Turner/ Jillian Sullivan, Alison Wong/ Chris Tse.

Welcome to our 20th anniversary celebration!
Fear of Flying (in broken Gilbertese)
Teresia Teaiwa
I maaku
You told me ba ko tangirai
I maaku

I maaku
My arms were awkward so ko taua baiu
I maaku

I maaku
The dancer trembles because te ruoia is a kind of sorcery
I maaku

I maaku
The frigate birds fly high above us and I'm afraid of falling
I maaku
from July/August 2016 Issue of Poetry Magazine
(Poetry Foundation)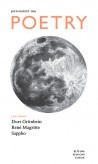 Teresia Teaiwa
Renowned scholar and poet Teresia Teaiwa was born in Honolulu, Hawai'i, to an I-Kiribati father and an African American mother, and was raised in Fiji. She was the author of the poetry collection, Searching for Nei Nim'anoa (1995) and coauthor of Last Virgin in Paradise: A One-Act Play (1993, with Vilsoni Hereniko). Her creative work was also published in Terenesia: Amplified Poetry and Songs by Teresia Teaiwa and Sia Figiel (2000).
Teresia earned a BA from Trinity College in Washington, DC, an MA in History from the University of Hawai'i, and a PhD in History of Consciousness from the University of California, Santa Cruz. She taught history and politics for five years at the University of the South Pacific in Suva, Fiji, before moving to New Zealand to teach Pacific studies at Victoria University. She was later a senior lecturer and programme director at Victoria University. She was also coeditor of the International Feminist Journal of Politics.
Sadly Teresia died in 2017. We publish Teresia's poem 'Fear of Flying (in broken Gilbertese)' chosen by Tusiata Avia, in tribute to this talented poet, iconic figure in Pacific studies, dedicated teacher and loving friend.