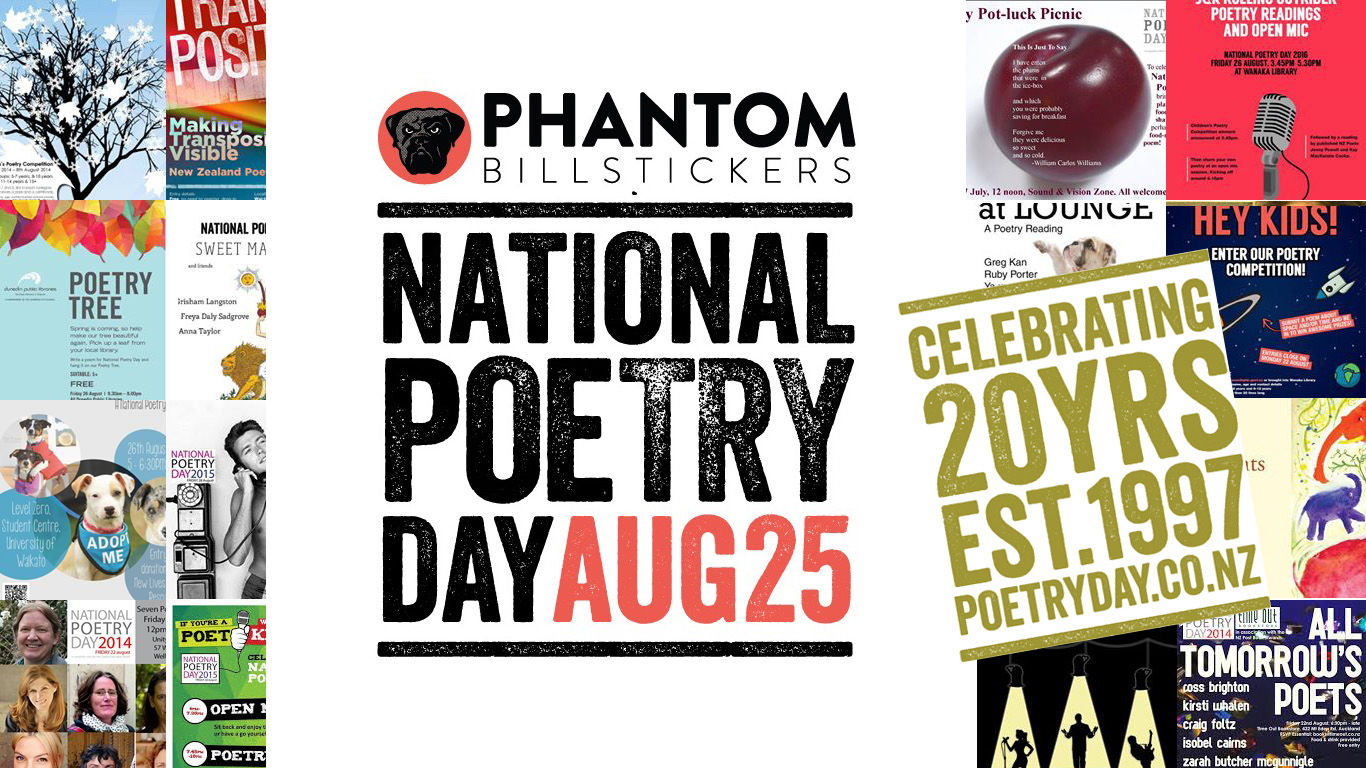 The 20/20 Collection
In 2017, to mark the 20th anniversary of Phantom Billstickers National Poetry Day, we asked 20 acclaimed Kiwi poets to choose one of their own poems – a work that spoke to New Zealand now. They were also asked to select something by another poet they saw as essential reading in 2017. The result is the 20/20 Collection, a selection of forty poems that reflect the diverse and vibrant range of voices in our contemporary literature.

The final, complete collection is available below, or you can download the free electronic version via this link: The 20/20 Collection. Follow this additional link for our Teachers' Notes.
The 20/20 poets, paired with their choice, are as follows: Jenny Bornholdt/ Ish Doney, Diana Bridge/ John Dennison, David Eggleton/ Leilani Tamu, Paula Green/ Simone Kaho, Michael Harlow/Paul Schimmel, Kevin Ireland/ Gregory Kan, Andrew Johnston/ Bill Nelson, Bill Manhire/ Louise Wallace, Selina Tusitala Marsh/ Reihana Robinson, Cilla McQueen/ David Kārena-Holmes, James Norcliffe/ Marisa Cappetta, Vincent O'Sullivan/ Lynley Edmeades, Tusiata Avia/ Teresia Teaiwa, Richard Reeve/Michael Steven, Elizabeth Smither/ Rob Hack, C. K. Stead/ Johanna Emeney, Robert Sullivan/ Ngahuia Te Awekotuku, Apirana Taylor/ Kiri Piahana-Wong, Brian Turner/ Jillian Sullivan, Alison Wong/ Chris Tse.

Welcome to our 20th anniversary celebration!
Prey
Simone Kaho
The first time I remember being scared was not at home, my family was staying with a relative in another town for a celebration. Overnight we watched a scary movie, where a disembodied female hand, bloody and clutching a knife, stalked a male victim through a house, calling his name in a high reedy voice – finally finding him in bed.
The next day, my two-year-old brother toddled over the umu coals; they burnt through his gumboots and into his feet. I connected the two events for some reason and needed a light on at night after that, despite my grandma saying Jesus wants you to have the light off at night that's why he made it dark.
from Lucky Punch
(Anahera Press)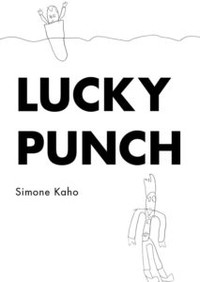 Simone Kaho
Simone Kaho is from New Zealand and of Tongan ancestry. She earned her MA in creative writing from the International Institute of Modern Letters. Her poetry has been published in journals such as JAAM, Turbine, and The Dominion Post. A noted performance poet and former member of Literrati, she has appeared in shows such asThe Kerouac Effect, Poetry Live, and spit.it.out.