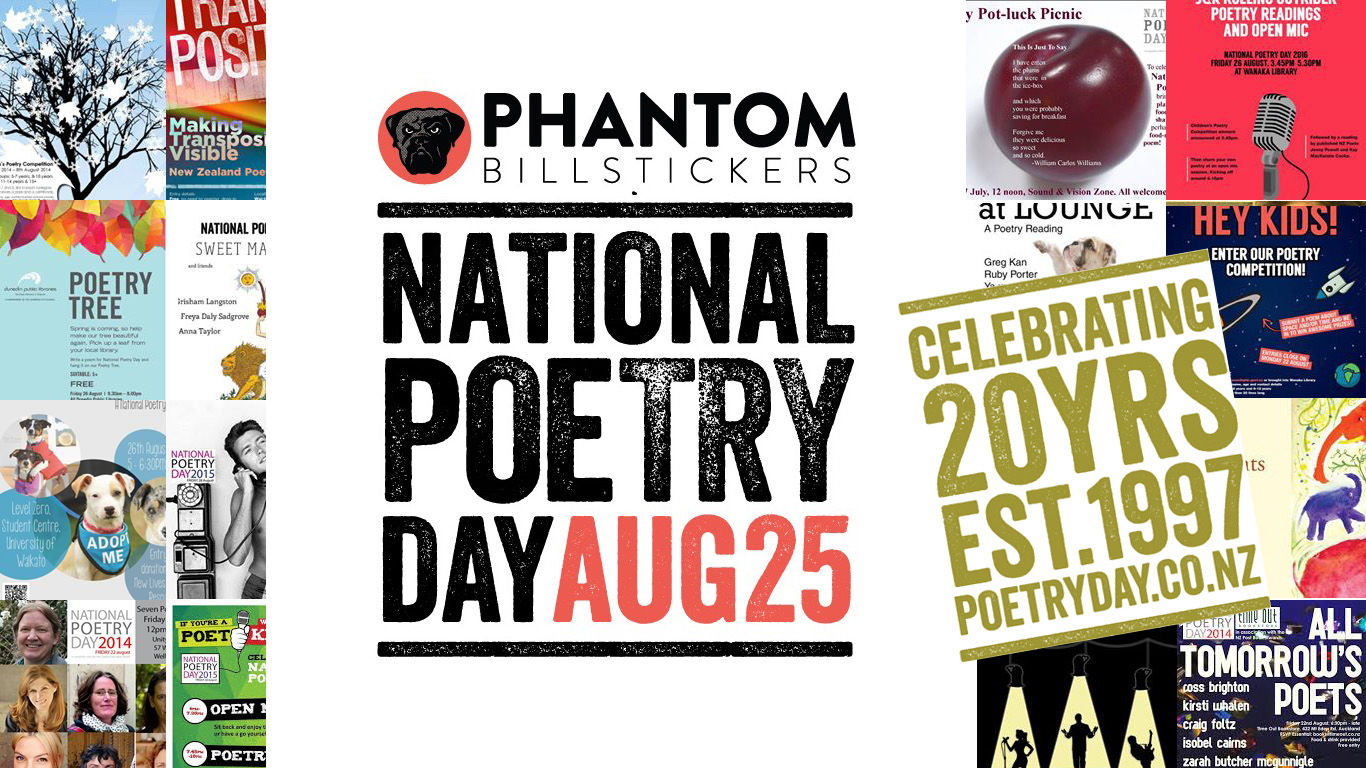 The 20/20 Collection
To mark the 20th anniversary of Phantom Billstickers National Poetry Day, we asked 20 acclaimed Kiwi poets to choose one of their own poems – a work that spoke to New Zealand now. They were also asked to select something by another poet they saw as essential reading in 2017. The result is the 20/20 Collection, a selection of forty poems that reflect the diverse and vibrant range of voices in our contemporary literature.

The final, complete collection is available below, or you can download the free electronic version via this link: The 20/20 Collection. Follow this additional link for our Teachers' Notes.
The 20/20 poets, paired with their choice, are as follows: Jenny Bornholdt/ Ish Doney, Diana Bridge/ John Dennison, David Eggleton/ Leilani Tamu, Paula Green/ Simone Kaho, Michael Harlow/Paul Schimmel, Kevin Ireland/ Gregory Kan, Andrew Johnston/ Bill Nelson, Bill Manhire/ Louise Wallace, Selina Tusitala Marsh/ Reihana Robinson, Cilla McQueen/ David Kārena-Holmes, James Norcliffe/ Marisa Cappetta, Vincent O'Sullivan/ Lynley Edmeades, Tusiata Avia/ Teresia Teaiwa, Richard Reeve/Michael Steven, Elizabeth Smither/ Rob Hack, C. K. Stead/ Johanna Emeney, Robert Sullivan/ Ngahuia Te Awekotuku, Apirana Taylor/ Kiri Piahana-Wong, Brian Turner/ Jillian Sullivan, Alison Wong/ Chris Tse.

Welcome to our 20th anniversary celebration!
Almost a Buddhist
Rob Hack
I was reading Boris Pasternak's biography.
Controversy! The publication of Doctor Zhivago
is imminent. He will receive the Nobel prize,
to a chorus of Soviet boos. The biographer
is welcomed in, handed a drink. There are many toasts.
I am apolitical, have no idealist views, Pasternak tells him,
am not a socialist realist, not even a communist
however casually asserts, I am almost an atheist.
Yet he is emotive in unfolding his ideas on God.
Vodka voices raised, neighbours talk of burning
Soviet literary critics yell, get out of your ivory tower
but Stalin had once said, leave this cloud dweller alone.
Quickly I flip the page. I am interrupted
an ant is traipsing across the page.
Instantly, automatically, I flick at it with my finger,
hitting it, but do not dislodge it.
The ant now crawls, one leg if that's what it's called
bent at a bad angle, limping if that's what it's called
toward the edge of the page
and I bereft am left to wonder, what was it
that caused my need to strike at and hurt something
ten thousand times smaller than me?
I lose interest in history and slam shut the book
open up the page, the ant now resembles a flat
question mark, unmoving under the word unworthy.
At least it is out of its misery. Not me. I put the book down
and write the poem. It is to me. But it is for the ant.
from Everything is Here
(Escalator Press)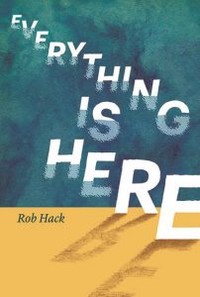 Rob Hack
Born in Invercargill Rob Hack has lived in Paekakariki for eleven years after returning from his third attempt to live in Australia. He's been a high rise window cleaner, builder, greenkeeper, insurance agent, cattle station worker, night shift at a gas station, gym owner and many more. Nowadays, he keeps the wolverine from the door working as a handyman. Hack began writing poetry in 1999, as an investigation into a long neglected Cook Island heritage and early life on Niue, but now writes on a wide array of topics and often reads his work in public.