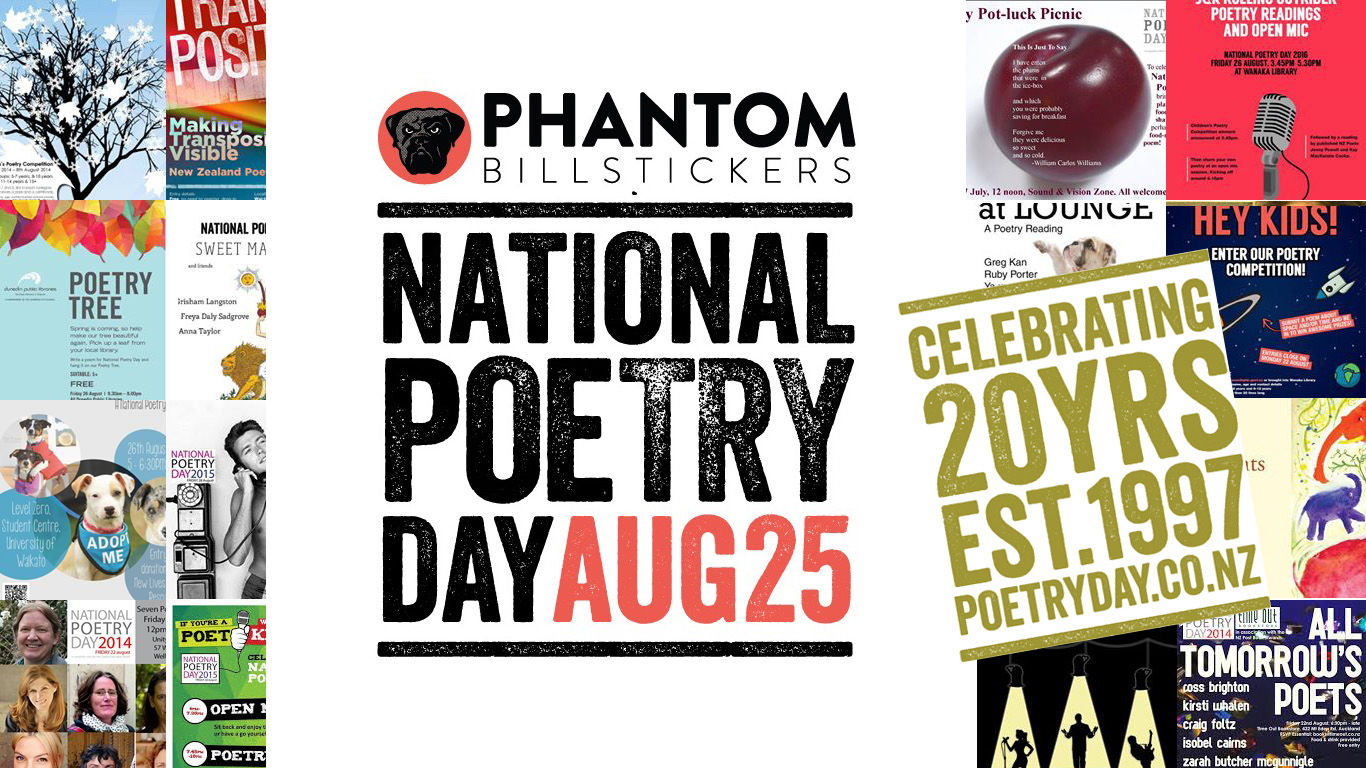 The 20/20 Collection
In 2017, to mark the 20th anniversary of Phantom Billstickers National Poetry Day, we asked 20 acclaimed Kiwi poets to choose one of their own poems – a work that spoke to New Zealand now. They were also asked to select something by another poet they saw as essential reading in 2017. The result is the 20/20 Collection, a selection of forty poems that reflect the diverse and vibrant range of voices in our contemporary literature.

The final, complete collection is available below, or you can download the free electronic version via this link: The 20/20 Collection. Follow this additional link for our Teachers' Notes.
The 20/20 poets, paired with their choice, are as follows: Jenny Bornholdt/ Ish Doney, Diana Bridge/ John Dennison, David Eggleton/ Leilani Tamu, Paula Green/ Simone Kaho, Michael Harlow/Paul Schimmel, Kevin Ireland/ Gregory Kan, Andrew Johnston/ Bill Nelson, Bill Manhire/ Louise Wallace, Selina Tusitala Marsh/ Reihana Robinson, Cilla McQueen/ David Kārena-Holmes, James Norcliffe/ Marisa Cappetta, Vincent O'Sullivan/ Lynley Edmeades, Tusiata Avia/ Teresia Teaiwa, Richard Reeve/Michael Steven, Elizabeth Smither/ Rob Hack, C. K. Stead/ Johanna Emeney, Robert Sullivan/ Ngahuia Te Awekotuku, Apirana Taylor/ Kiri Piahana-Wong, Brian Turner/ Jillian Sullivan, Alison Wong/ Chris Tse.

Welcome to our 20th anniversary celebration!
White girl's blues
Reihana Robinson
"I have come to an unalterable decision—
to go and live forever in Polynesia
then I can end my days in peace and freedom
without thoughts of tomorrow and this
eternal struggle against idiots."
Paul Gauguin, October 1894
Gauguin moves southwest,
sucks on a guava kiss of helpless sea
in the silence of Tahiti's night
amid 'mad vegetation'—
soyez mysterieuse
Hey white girl
does it ever cross your mind
to unravel a boy
to rattle the doors
to banter and rant
and run barefoot?
Crabs, bats, rats
devouring seed.
Hibiscus flushes your cheek,
frangipani fills his nose.
from Aue Rona
(Steele Roberts)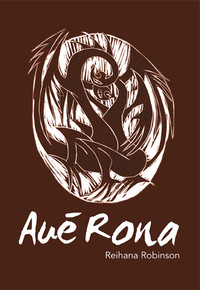 Reihana Robinson
Reihana Robinson writes, paints and farms organically on the Coromandel in Aotearoa/New Zealand and in western Massachusetts. Her writing has been published in the USA and New Zealand in a number of journals including Cha: An Asian Literary Journal, Landfall, Cutthroat, Hawai'i Review, Trout, Melusine, JAAM, Takahe, Cezanne's Carrot, Tupelo anthology 2014, Catalyst, Cordite Review, Overland and Blackmail Press. Robinson was published as part of AUP New Poets 3, Auckland University Press in 2008. Her first volume Aue Rona was published by Steele Roberts, Wellington, NZ in 2012. Robinson has held artist residencies at the East West Center, Honolulu, Hawai'i and the Anderson Center, Red Wing, Minnesota. She is the inaugural recipient of the Te Atairangikāhu Award for Poetry.

Robinson's second collection of poems entitled I WANT YOU BACK has been selected to be published by Makaro Press in March 2018.
Bio photo credit: Jono Rotman