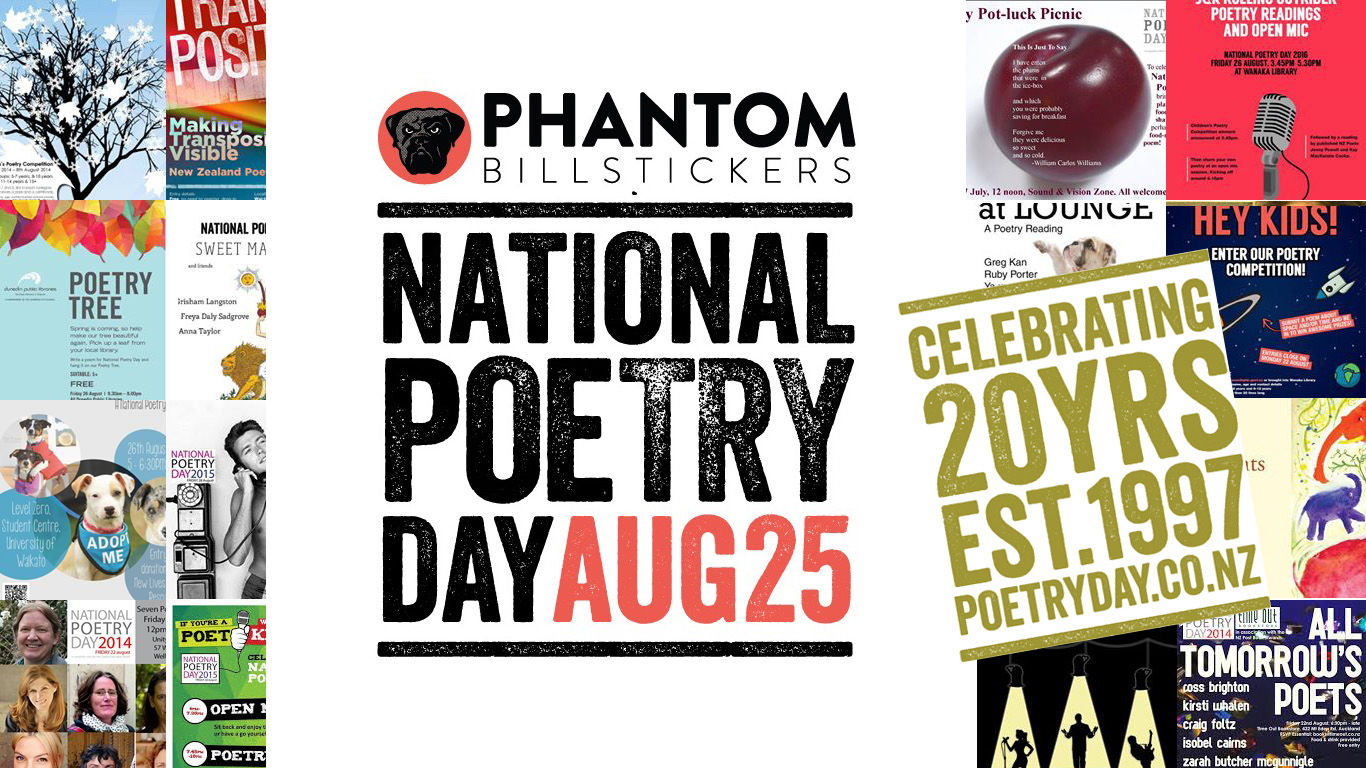 The 20/20 Collection
To mark the 20th anniversary of Phantom Billstickers National Poetry Day, we asked 20 acclaimed Kiwi poets to choose one of their own poems – a work that spoke to New Zealand now. They were also asked to select something by another poet they saw as essential reading in 2017. The result is the 20/20 Collection, a selection of forty poems that reflect the diverse and vibrant range of voices in our contemporary literature.

The final, complete collection is available below, or you can download the free electronic version via this link: The 20/20 Collection. Follow this additional link for our Teachers' Notes.
The 20/20 poets, paired with their choice, are as follows: Jenny Bornholdt/ Ish Doney, Diana Bridge/ John Dennison, David Eggleton/ Leilani Tamu, Paula Green/ Simone Kaho, Michael Harlow/Paul Schimmel, Kevin Ireland/ Gregory Kan, Andrew Johnston/ Bill Nelson, Bill Manhire/ Louise Wallace, Selina Tusitala Marsh/ Reihana Robinson, Cilla McQueen/ David Kārena-Holmes, James Norcliffe/ Marisa Cappetta, Vincent O'Sullivan/ Lynley Edmeades, Tusiata Avia/ Teresia Teaiwa, Richard Reeve/Michael Steven, Elizabeth Smither/ Rob Hack, C. K. Stead/ Johanna Emeney, Robert Sullivan/ Ngahuia Te Awekotuku, Apirana Taylor/ Kiri Piahana-Wong, Brian Turner/ Jillian Sullivan, Alison Wong/ Chris Tse.

Welcome to our 20th anniversary celebration!
Dropped Pin: Jollie Street
​Michael Steven
A kind of remittance man from northern Dublin
he was easily a character from a Behan play
or a late song by Thin Lizzy, sent to live in this city
of grids and ghosts: duking it out with an ineffable
darkness after his first marriage ended.
-----------------------------------------------------A black dog.
A Celtic duende. A man who proclaimed to function
best in a state close to coma. He was accountable once a week
(usually on Sunday) to suspicious questions fired
down the phone-line in a thick brogue,
---------------------------------------------------'Have you a job yet?'
'Were you in Mass today?' 'Your fahdha knows you're drinking.'
-----You hated Kerouac. You nicked my stash.
I took your smokes. I ran up toll bills pining to ex-lovers.
Our good intentions forked like the tongue of the same serpent.
I'll remember you best when we were at our best----
on that Christmas Day we shared a stolen quart of Ballantynes----
driving a borrowed Superminx up and down the street,
estranged from, longing for, the intimacy we talked of happening
behind those closed and wreathed and silent front doors,
or the time you just burst into the lounge: home from the doctor
with a valium script (filled, of course) a bladder of Chasseur
and the Oxford edition of Ulysses stuffed down your trousers.
from The Story of My Past Lives (NB: Cover pending - below is an image excerpt by printmaker Manu Berry)
(Maungatua Press)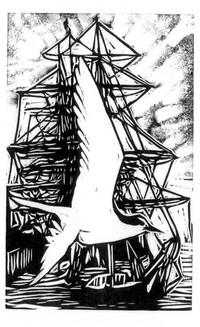 ​Michael Steven
Michael Steven was born in 1977. His poems, short stories and non fiction, have appeared in Landfall, Phantom Billstickers Cafe Reader, Poetry NZ Yearbook, IKA, Contrapasso and other journals. A chapbook, The Story of My Past Lives, is forthcoming from Maungatua Press. He lives in Auckland.