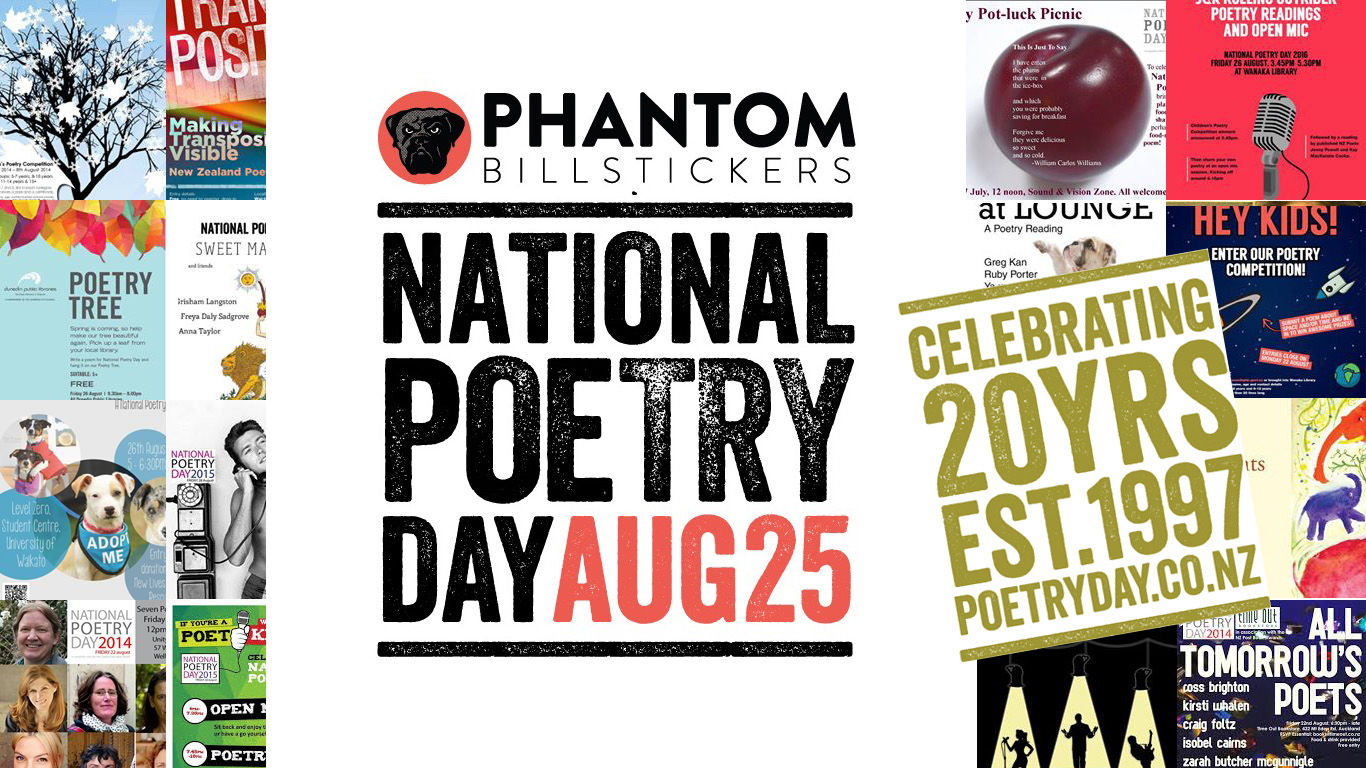 The 20/20 Collection
To mark the 20th anniversary of Phantom Billstickers National Poetry Day, we asked 20 acclaimed Kiwi poets to choose one of their own poems – a work that spoke to New Zealand now. They were also asked to select something by another poet they saw as essential reading in 2017. The result is the 20/20 Collection, a selection of forty poems that reflect the diverse and vibrant range of voices in our contemporary literature.

The final, complete collection is available below, or you can download the free electronic version via this link: The 20/20 Collection. Follow this additional link for our Teachers' Notes.
The 20/20 poets, paired with their choice, are as follows: Jenny Bornholdt/ Ish Doney, Diana Bridge/ John Dennison, David Eggleton/ Leilani Tamu, Paula Green/ Simone Kaho, Michael Harlow/Paul Schimmel, Kevin Ireland/ Gregory Kan, Andrew Johnston/ Bill Nelson, Bill Manhire/ Louise Wallace, Selina Tusitala Marsh/ Reihana Robinson, Cilla McQueen/ David Kārena-Holmes, James Norcliffe/ Marisa Cappetta, Vincent O'Sullivan/ Lynley Edmeades, Tusiata Avia/ Teresia Teaiwa, Richard Reeve/Michael Steven, Elizabeth Smither/ Rob Hack, C. K. Stead/ Johanna Emeney, Robert Sullivan/ Ngahuia Te Awekotuku, Apirana Taylor/ Kiri Piahana-Wong, Brian Turner/ Jillian Sullivan, Alison Wong/ Chris Tse.

Welcome to our 20th anniversary celebration!
In the Bonds
Marisa Cappetta
My wife is a massed display of devotion,
a crackle of kindling on a frosted morning.
She is the vulgarity of a slammed door
scarred by the blood and terror of her mother.
My wife arranges anniversaries in a bright orderly display.
She is the aroma of cardamom, cinnamon and cloves
simmering in hot oil; she hoards the fat of our age
and sings alternating canticles of parent and lover.
My wife's taste and artistry are not easily
acquired by reading her shoulders, back or thighs.
She has advanced to a higher plane of garden design,
planting the after-image of her children with the hollyhocks.
When we slip off our foundations she cracks eggs
into a saucer and checks for rot before she whisks.
My wife might be an avoidable error, frugal
fare indeed. Or she might be the adornment of our days.
from How to Tour the World on a Flying Fox
(Steele Roberts)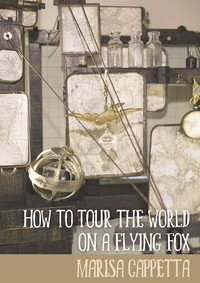 Marisa Cappetta
Marisa Cappetta's first collection How to tour the world on a flying fox was published by Steele Roberts in 2016. In 2013 Cappetta received a mentorship from the New Zealand Society of Authors, with mentor James Norcliffe. Cappetta graduated Summa Cum Laude from the Hagley Writers' Institute in 2011 and is the winner of the Hagley Writers' Institute Margaret Mahy prize. She has been published in Takahē, The Press, International Literary Quarterly, Enamel, Shot Glass Journal, Snorkel, Blackmail Press, Turbine, Landfall, as well as several anthologies. She has had three poem posters made by Phantom Billstickers.