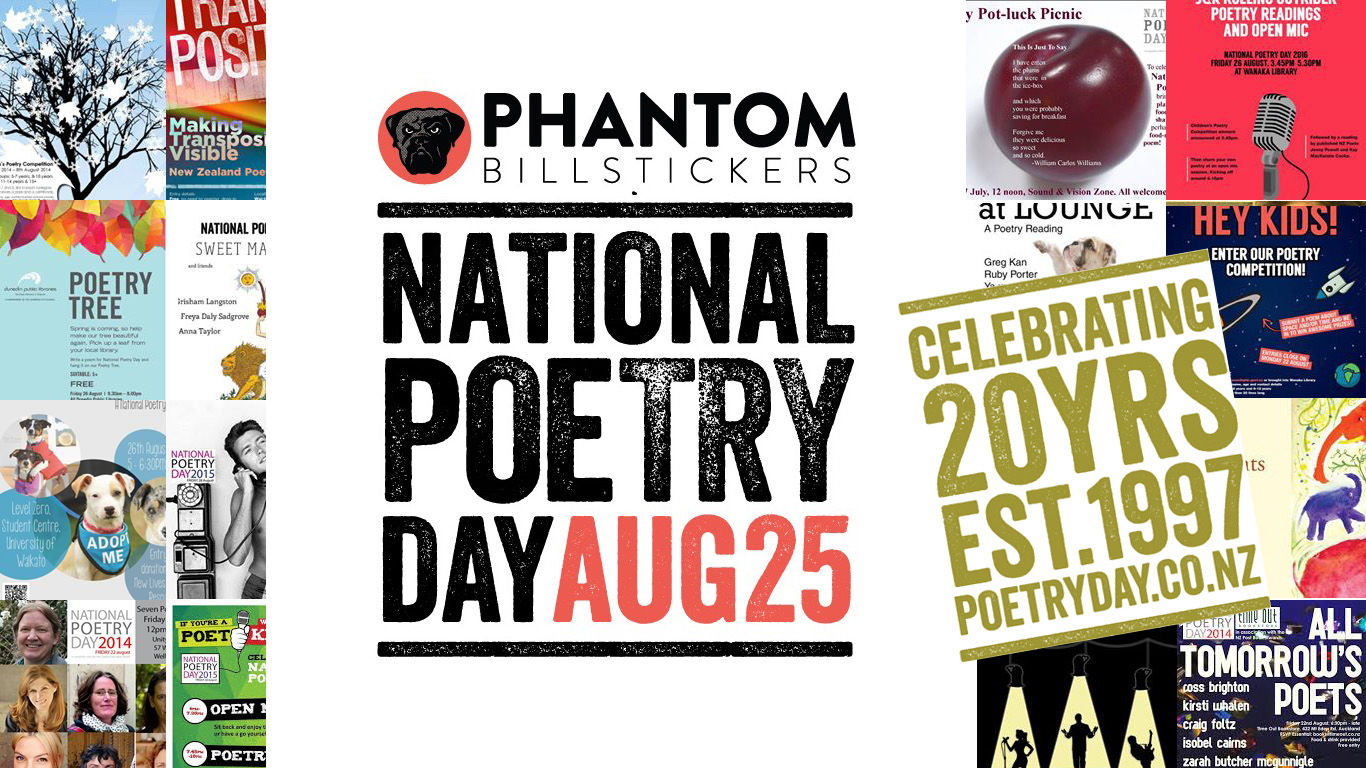 The 20/20 Collection
In 2017, to mark the 20th anniversary of Phantom Billstickers National Poetry Day, we asked 20 acclaimed Kiwi poets to choose one of their own poems – a work that spoke to New Zealand now. They were also asked to select something by another poet they saw as essential reading in 2017. The result is the 20/20 Collection, a selection of forty poems that reflect the diverse and vibrant range of voices in our contemporary literature.

The final, complete collection is available below, or you can download the free electronic version via this link: The 20/20 Collection. Follow this additional link for our Teachers' Notes.
The 20/20 poets, paired with their choice, are as follows: Jenny Bornholdt/ Ish Doney, Diana Bridge/ John Dennison, David Eggleton/ Leilani Tamu, Paula Green/ Simone Kaho, Michael Harlow/Paul Schimmel, Kevin Ireland/ Gregory Kan, Andrew Johnston/ Bill Nelson, Bill Manhire/ Louise Wallace, Selina Tusitala Marsh/ Reihana Robinson, Cilla McQueen/ David Kārena-Holmes, James Norcliffe/ Marisa Cappetta, Vincent O'Sullivan/ Lynley Edmeades, Tusiata Avia/ Teresia Teaiwa, Richard Reeve/Michael Steven, Elizabeth Smither/ Rob Hack, C. K. Stead/ Johanna Emeney, Robert Sullivan/ Ngahuia Te Awekotuku, Apirana Taylor/ Kiri Piahana-Wong, Brian Turner/ Jillian Sullivan, Alison Wong/ Chris Tse.

Welcome to our 20th anniversary celebration!
Hine Rangi
Kiri Piahana Wong
Near the end of my
days, I knew.
Time moved through
me like the wind.
.
With every outbound tide
I felt my breath receding,
my life running from me
like the river feeding
the bay. And the
longing.
I was tired.
I longed to merge my voice
with the world-song, become
a single drop in the ocean,
be everywhere and nowhere.
.
My skin felt too small.
With each turn of the moon,
I felt more hollowed and
so grey.
.
I spent these last weeks
atop the cliff above the bay,
looking westwards. Three
moons waned, grew fat and
full, and thin again. The sun
set each evening in my eyes,
as I kept vigil. Anchoring
myself deep in the earth, I
felt my roots grow deep
and strong.
.
I died there.
My sons and the husbands of
my daughters came and gathered
up my body and carried me down,
one last time across the long black
stretch of bay.
I was laid to rest in the ground,
in te urupā.
My bones are still there, but I am
gone now. I went on my last journey,
to Te Rerenga Wairua, the cape of spirits.
They called me, and I came. I flew.
I danced. I left, and I began
the long return.
.
Perhaps you would like to hear
I met him again in Hawaiki,
the afterlife. I did not. The truth is,
I did not care. All that I had bled
for in the world of tears I put aside
here. I existed as spirit.
I slid outside the trap of time.
I was more than myself now. And
I was less. I let the world-song
swallow me.
.
(A note from the poet)
Hinerangi's story:
Hinerangi was an early tupuna of Te Kawerau a Maki (tangata whenua of the area in Auckland now known as Waitakere City, traditionally known as Hikurangi). Hinerangi married a young Karekare chieftan and settled with him there until an aituā (tragic accident) befell him. Her husband went fishing at the southern end of Te Unuhanga o Rangitoto (now known as Mercer Bay) with two friends. This spot was named Te Kawa Rimurapa (reef of the bull kelp), and was a popular, but dangerous, fishing spot. On this particular day Hinerangi's husband and his friends were washed from the rocks and swept away. Hinerangi, inconsolable and heartbroken, sat on the headland above, scanning the sea, and refused to leave. Eventually she died there. Her sad face is now said to be outlined in the rocks below the headland on which she sat. This headland is now known as Te Āhua o Hinerangi (the likeness of Hinerangi)
from Puna Wai Korero (ed. Robert Sullivan & Reina Whaitiri)
(Auckland University Press)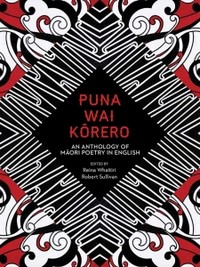 Kiri Piahana Wong
Kiri Piahana-Wong is a poet and editor of Maori (Ngāti Ranginui), Chinese, and Pākehā ancestry. She is the author of the poetry collection Night Swimming (2013), and publisher at Anahera Press. Her work has appeared in many journals and anthologies, most recently in Essential New Zealand Poems (2014), A Treasury of NZ Poems for Children (2014), Dear Heart: 150 New Zealand Love Poems (2012), and Puna Wai Kōrero (2014). Piahana-Wong is a former emcee at Poetry Live, New Zealand's longest-running live poetry venue.