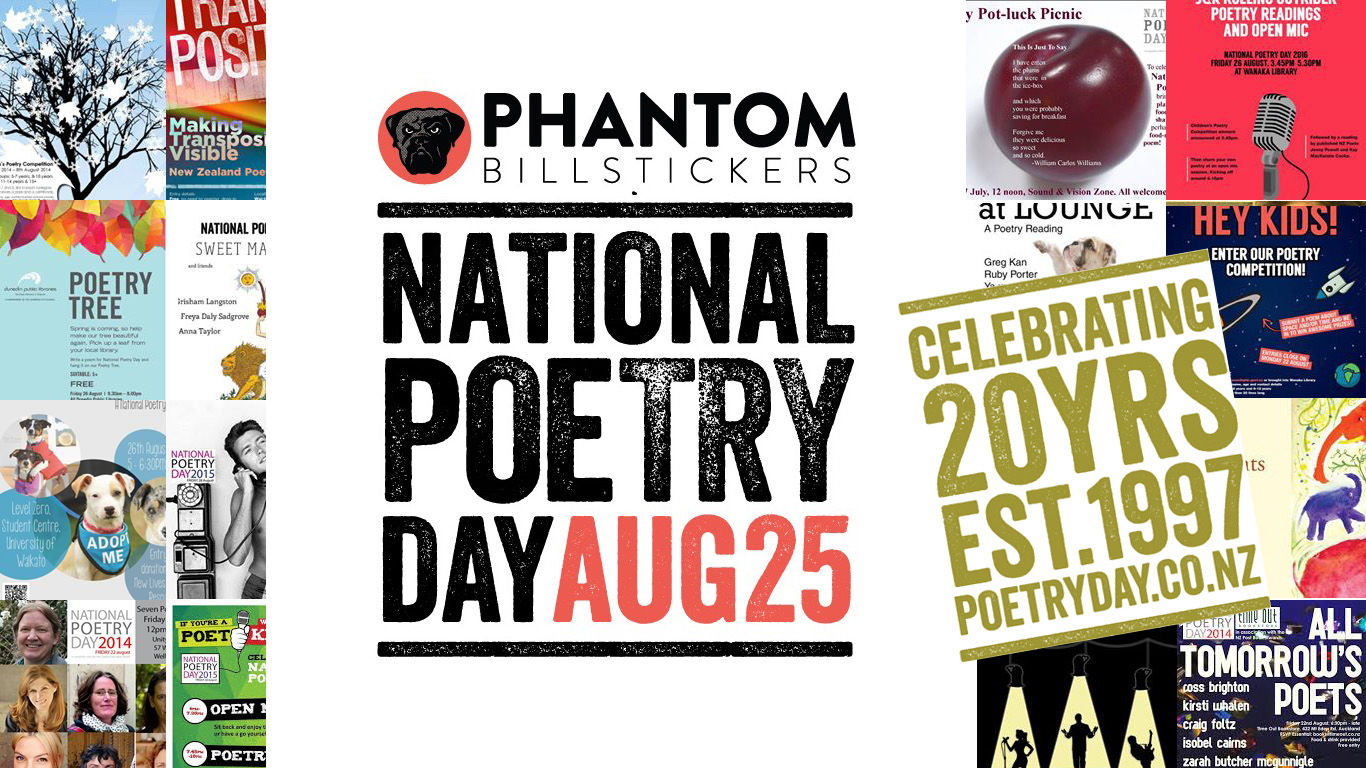 The 20/20 Collection
To mark the 20th anniversary of Phantom Billstickers National Poetry Day, we asked 20 acclaimed Kiwi poets to choose one of their own poems – a work that spoke to New Zealand now. They were also asked to select something by another poet they saw as essential reading in 2017. The result is the 20/20 Collection, a selection of forty poems that reflect the diverse and vibrant range of voices in our contemporary literature.

The final, complete collection is available below, or you can download the free electronic version via this link: The 20/20 Collection. Follow this additional link for our Teachers' Notes.
The 20/20 poets, paired with their choice, are as follows: Jenny Bornholdt/ Ish Doney, Diana Bridge/ John Dennison, David Eggleton/ Leilani Tamu, Paula Green/ Simone Kaho, Michael Harlow/Paul Schimmel, Kevin Ireland/ Gregory Kan, Andrew Johnston/ Bill Nelson, Bill Manhire/ Louise Wallace, Selina Tusitala Marsh/ Reihana Robinson, Cilla McQueen/ David Kārena-Holmes, James Norcliffe/ Marisa Cappetta, Vincent O'Sullivan/ Lynley Edmeades, Tusiata Avia/ Teresia Teaiwa, Richard Reeve/Michael Steven, Elizabeth Smither/ Rob Hack, C. K. Stead/ Johanna Emeney, Robert Sullivan/ Ngahuia Te Awekotuku, Apirana Taylor/ Kiri Piahana-Wong, Brian Turner/ Jillian Sullivan, Alison Wong/ Chris Tse.

Welcome to our 20th anniversary celebration!
Milking
Jillian Sullivan
Sometimes when I milk the goat
early morning, her freckled, sagging udder
familiar in my fingers, clean milk
foaming in the bowl, I do not know
how long I can keep believing
in the sanctity of marriage.
I carry milk to the daunted kitchen,
with the cupboards nailed
shut against the rates,
where honeysuckle seeps
through wallboards and in winter
the sun doesn't shine.
Sometimes I sneak to the edge
of a ruined life and look
down at how far I will fall, until the children
cry for their breakfast;
warm milk
on warm oats.
If there was someone else, but there is only
the idea of someone else, who
takes a turn at the plashing bowl
on the rickety milk stand, or bends
beside me in the rows of silverbeet
sharing the sun, and the spade.
And in the evening
when he comes home, his arms tell me
I belong here, and how sweet
the goat's breath when she turns
her whiskered face to my own face
laid on her warm, white flank.
She gives up her milk for us,
as I could give up everything
for the small ones, who didn't ask to be here.
If there was a stream
I would take the path beside it,
I would listen for that moment
when the water
falls from the rock, that hallowed space
before everything is over.
from The Unexpected Greenness of Trees
(Caselburg Trust)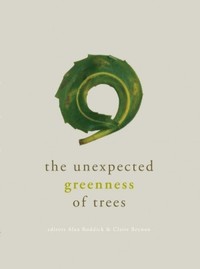 Jillian Sullivan
Jillian Sullivan lives and writes in Central Otago, New Zealand. She has published books in a variety of genres, including creative non-fiction, novels, short story collections and poetry. She teaches workshops on creativity and writing in New Zealand and America. Her awards include the Highlights Fiction Award in America, the Tom Fitzgibbon Award, the Kathleen Grattan Prize for a Sequence of Poems, and the Takahe Poetry Prize. Her latest book is the memoir A Way Home (Potton and Burton 2016).