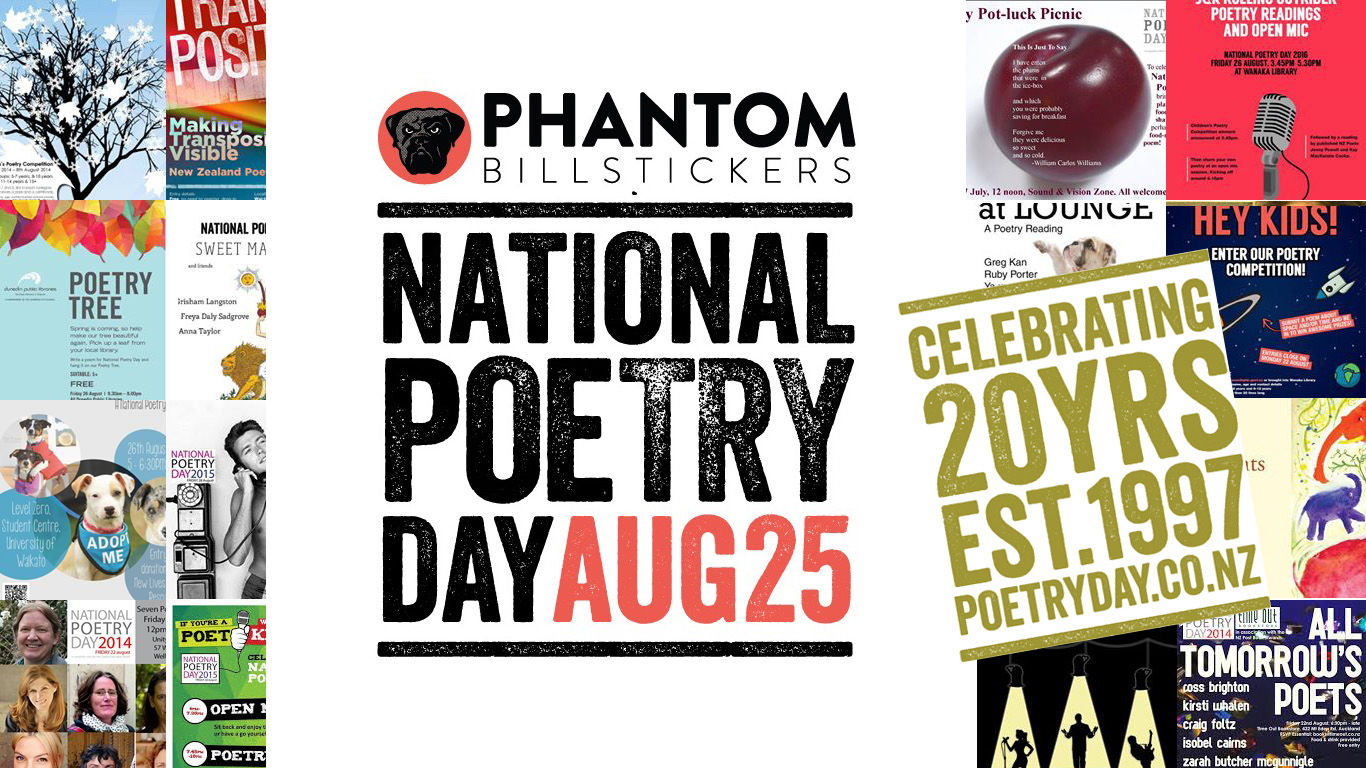 The 20/20 Collection
In 2017, to mark the 20th anniversary of Phantom Billstickers National Poetry Day, we asked 20 acclaimed Kiwi poets to choose one of their own poems – a work that spoke to New Zealand now. They were also asked to select something by another poet they saw as essential reading in 2017. The result is the 20/20 Collection, a selection of forty poems that reflect the diverse and vibrant range of voices in our contemporary literature.

The final, complete collection is available below, or you can download the free electronic version via this link: The 20/20 Collection. Follow this additional link for our Teachers' Notes.
The 20/20 poets, paired with their choice, are as follows: Jenny Bornholdt/ Ish Doney, Diana Bridge/ John Dennison, David Eggleton/ Leilani Tamu, Paula Green/ Simone Kaho, Michael Harlow/Paul Schimmel, Kevin Ireland/ Gregory Kan, Andrew Johnston/ Bill Nelson, Bill Manhire/ Louise Wallace, Selina Tusitala Marsh/ Reihana Robinson, Cilla McQueen/ David Kārena-Holmes, James Norcliffe/ Marisa Cappetta, Vincent O'Sullivan/ Lynley Edmeades, Tusiata Avia/ Teresia Teaiwa, Richard Reeve/Michael Steven, Elizabeth Smither/ Rob Hack, C. K. Stead/ Johanna Emeney, Robert Sullivan/ Ngahuia Te Awekotuku, Apirana Taylor/ Kiri Piahana-Wong, Brian Turner/ Jillian Sullivan, Alison Wong/ Chris Tse.

Welcome to our 20th anniversary celebration!
Lead
Selina Tusitala Marsh
You're a leader-in-the-making, you're making history
Redefining this nation's brown legacy
Poly-saturated activity
It's Nafanua graduating from university
And now
In tautua, lead our community
Lead through uniqueness, your diversity
Lead through leaning, lead through learning
Lead through others, lead by earning
...................................................................Your own way in this world.
Lead in alofa, lead in compassion
Lead in fun – lead in your own fashion
Lead by falling forward when you make a mistake
Lead by giving more than what you take
Lead when your strategy is a forward-looking story
Lead when the task in front of you holds no glory
Let your 'Yes' be 'Yes', let your 'No' be 'No'
Lead and follow in the footsteps of all your heroes
Lead by creating out of happy accidents
Lead by taking risks when there's no precedent
Lead by following the cup-o'-tea trail
Sit, listen, eat and they'll follow without fail
Lead by digging up diamonds in those around you
Lead when you scale the heights, then plummet to ground zero
Lead with transparency, lead with laughter
Lead in celebration, lead in disaster
Lead with your strengths, lead in honesty
Lead when you see between the lines of policy
...............................................................And into the people's eyes.
Lead, even in the times you just want to follow,
Lead for today, lead for tomorrow
Lead when you want to end all injustice
Lead in the crowd, lead when it's just us
Lead when you want to revolutionise
When you no longer want to be hypnotised
By what everybody else says is right
Lead when you have your vision in sight
Lead from the front, lead from behind
Lead from the middle, wherever you find
...............................................................Your standing place.
In the workplace, in the home
Lead when everyone's watching, and when you're alone
Lead with an eye on your dream, an eye on the rest
Lead when you can look at yourself and assess
Your weaknesses and strengths with clarity
Remembering humility and charity
Lead when you're brave enough to ask different questions
And when the answers aren't good enough, to raise objections
Lead and give yourself permission to fail
Lead and take the less-often-walked trail
Lead and never forget to be kind
Lead with the heart bound up with the mind
Lead with a child's curiosity
Lead with the end goal of unity
Lead with national excellence and innovation
Lead through intimate conversation
Lead with courage and determination
Even in the face of discrimination – Lead.
Lead with balance, a sense of fair play
Lead to help others lead in this way
Lead when you learn your failures are a test
Lead as you learn to lead from the best
Today we celebrate Pacific success –
Now, Lead.
from Dark Sparring
(Auckland University Press)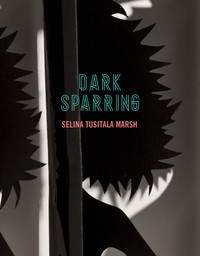 Selina Tusitala Marsh
Selina Tusitala Marsh is a poet of Samoan, Tuvaluan, English and French descent. Her poetry is published in over 67 anthologies, academic texts, print and online literary journals, and translated into Ukraine, Spanish and Italian. Since 2007, she has performed at over 119 national and international events and given over 100 poetry writing workshops. She was a Poet Olympiad for the 2012 London Olympics Poetry Parnassus event, and in 2015 won the London Literary Death Match at the Australia New Zealand Literary Festival. Marsh was the 2016 Commonwealth Poet, performing her commissioned poem 'Unity', for the Queen at Westminster Abbey.
Among her numerous publications, Selina's award-winning poetry collection, Fast Talking PI (Auckland UP, 2009), featured at the 2012 Frankfurt Book Fair, won the NZSA Jesse Mackay First Best Book Award (2010) and its titular poem took on cult status in schools and community groups. Her second poetry collection, Dark Sparring (Auckland UP, 2013) received critical acclaim, including both the Top 5 NZ Best Seller List and NZ Listener's Best 100 Books in 2013.
Selina Tusitala Marsh's Choice: 'White girl's blues' by Reihana Robinson