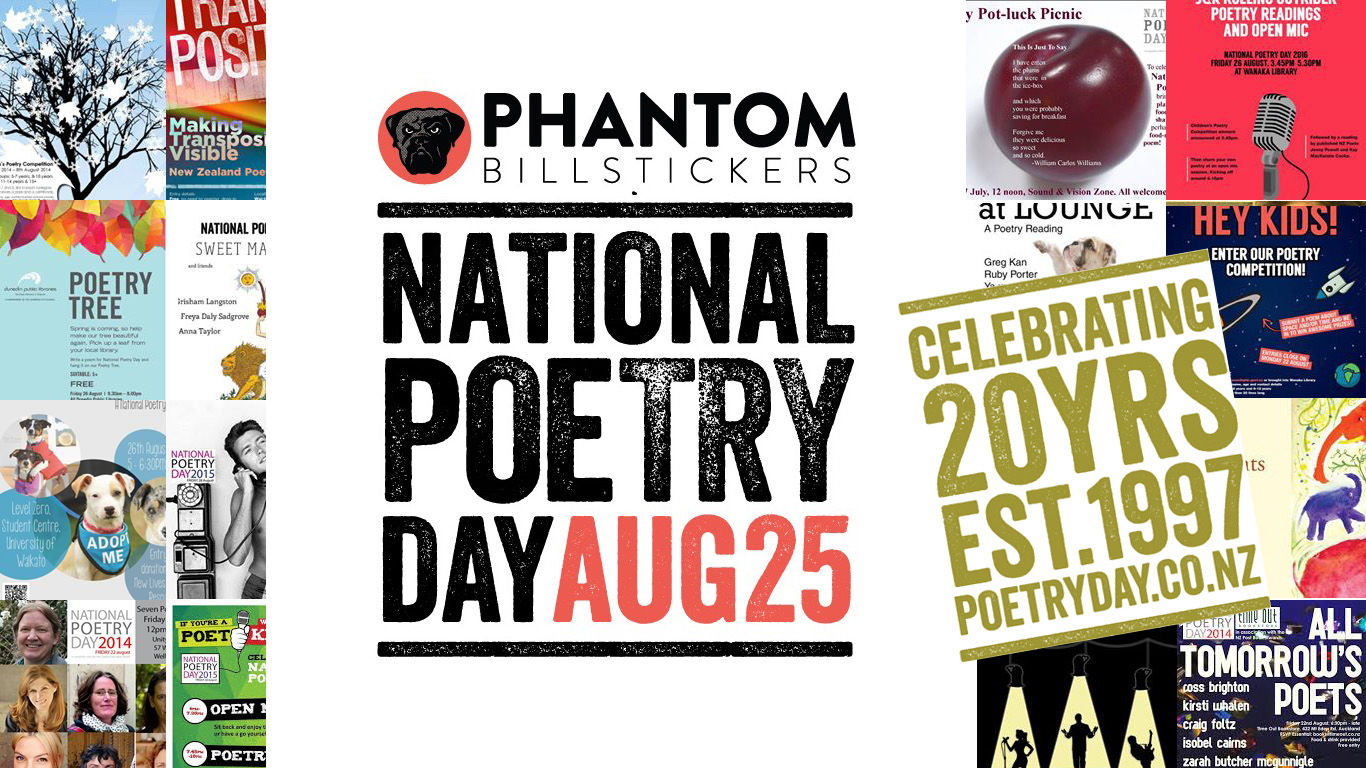 The 20/20 Collection
In 2017, to mark the 20th anniversary of Phantom Billstickers National Poetry Day, we asked 20 acclaimed Kiwi poets to choose one of their own poems – a work that spoke to New Zealand now. They were also asked to select something by another poet they saw as essential reading in 2017. The result is the 20/20 Collection, a selection of forty poems that reflect the diverse and vibrant range of voices in our contemporary literature.

The final, complete collection is available below, or you can download the free electronic version via this link: The 20/20 Collection. Follow this additional link for our Teachers' Notes.
The 20/20 poets, paired with their choice, are as follows: Jenny Bornholdt/ Ish Doney, Diana Bridge/ John Dennison, David Eggleton/ Leilani Tamu, Paula Green/ Simone Kaho, Michael Harlow/Paul Schimmel, Kevin Ireland/ Gregory Kan, Andrew Johnston/ Bill Nelson, Bill Manhire/ Louise Wallace, Selina Tusitala Marsh/ Reihana Robinson, Cilla McQueen/ David Kārena-Holmes, James Norcliffe/ Marisa Cappetta, Vincent O'Sullivan/ Lynley Edmeades, Tusiata Avia/ Teresia Teaiwa, Richard Reeve/Michael Steven, Elizabeth Smither/ Rob Hack, C. K. Stead/ Johanna Emeney, Robert Sullivan/ Ngahuia Te Awekotuku, Apirana Taylor/ Kiri Piahana-Wong, Brian Turner/ Jillian Sullivan, Alison Wong/ Chris Tse.

Welcome to our 20th anniversary celebration!
Sullivan Whānau
Robert Sullivan
The grass at Te Kaaretu was renowned
for its softness – our ancestors would line
their whare with it for bedding. Today we are
gathered up like clumps of Kaaretu grass,
made soft by the gathering, and we line
the whare nui at Pihareinga, Te Kaaretu,
with our bedding once again.
I learn Arapeta's song, e tuwhera atu nei,
te awa o Taumarere . . . our ancestral river
of Taumarere opens here, although of course
we had settlements at Matauwhi and Kororareka –
the first New Zealand capital – we were
one of the first tribes to be affected
by westernisation. Today we are following
the river, tracing the paths of our people,
the great names and the previously unknown,
trying to find the first Sullivan who gave us
his name early last century. What was his
first name? who did he marry? why did he stay here?
was he marooned? was it a woman?
what was his waka? These questions remain to date.
But there are tears at this reunion.
The speeches are from everyone here,
we introduce ourselves as the special branches
of the whanau. We move around
like the four winds, but when we gather
at Te Kaaretu, we are anchored
and hold fast to one another.
from Star Waka
(Auckland University Press)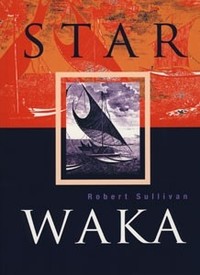 Robert Sullivan
Robert Sullivan is an internationally published Māori poet and academic whose numerous collections include the bestselling Star Waka (Auckland UP, 1999), which has been reprinted five times, translated into German (Mana Verlag), and shortlisted for the Montana New Zealand Book Awards (2000). Sullivan's writing explores dimensions of contemporary urban experience, including local racial and social issues. His writing has a postmodern feel, where history and mythology, individual and collective experience, become areas of refined focus. Sullivan's work has won, or been nominated for, many awards and he is an editor of the online journal, Trout.
Robert Sullivan's Choice: 'Pukeroa' by Ngahuia Te Awekotuku