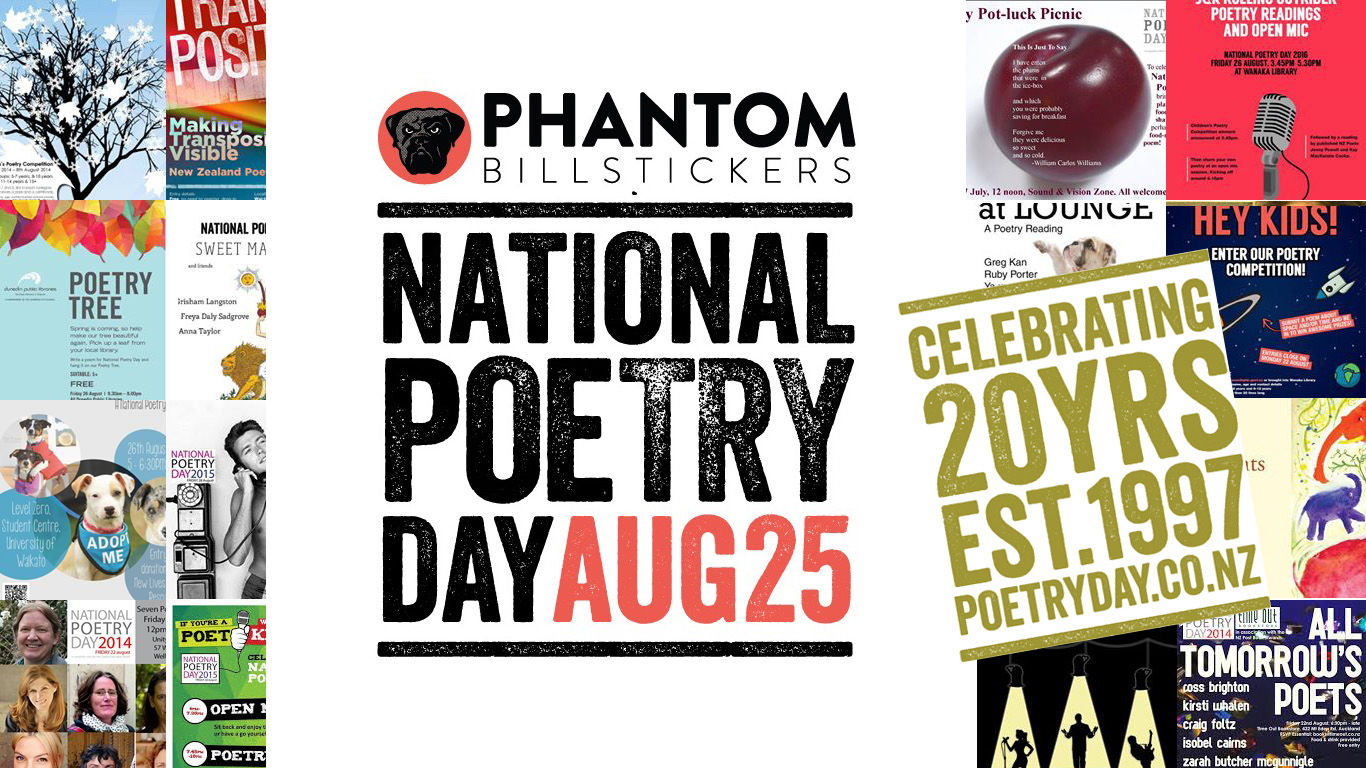 The 20/20 Collection
In 2017, to mark the 20th anniversary of Phantom Billstickers National Poetry Day, we asked 20 acclaimed Kiwi poets to choose one of their own poems – a work that spoke to New Zealand now. They were also asked to select something by another poet they saw as essential reading in 2017. The result is the 20/20 Collection, a selection of forty poems that reflect the diverse and vibrant range of voices in our contemporary literature.

The final, complete collection is available below, or you can download the free electronic version via this link: The 20/20 Collection. Follow this additional link for our Teachers' Notes.
The 20/20 poets, paired with their choice, are as follows: Jenny Bornholdt/ Ish Doney, Diana Bridge/ John Dennison, David Eggleton/ Leilani Tamu, Paula Green/ Simone Kaho, Michael Harlow/Paul Schimmel, Kevin Ireland/ Gregory Kan, Andrew Johnston/ Bill Nelson, Bill Manhire/ Louise Wallace, Selina Tusitala Marsh/ Reihana Robinson, Cilla McQueen/ David Kārena-Holmes, James Norcliffe/ Marisa Cappetta, Vincent O'Sullivan/ Lynley Edmeades, Tusiata Avia/ Teresia Teaiwa, Richard Reeve/Michael Steven, Elizabeth Smither/ Rob Hack, C. K. Stead/ Johanna Emeney, Robert Sullivan/ Ngahuia Te Awekotuku, Apirana Taylor/ Kiri Piahana-Wong, Brian Turner/ Jillian Sullivan, Alison Wong/ Chris Tse.

Welcome to our 20th anniversary celebration!
At Frankton Supermarket, Queenstown
Richard Reeve
for Tim

In Frankton supermarket, it is possible to buy a frozen Atlantic lobster
Over for the day
......................from Hawea, past Cardrona, up the valley
to the pass where the road snails its way onto the Crown Range,
roll on up in your SUV, snowburnt, sunscreen-sweet, children
in the back, beer up the front, note foxgloves, fences, rabbits, the odd
poplars peering at real estate (never allowed in), mountain elbows
prodding each other for room. The subdivisions genuflect;
at Arrowtown we round up the boy in glib reminiscence,
eat a pizza called Glenorchy at one of the local pubs.
Taking selfies by the ruins, we are complex. Survivors,
we have become the presiding custodians of perspective,
paradisal grubs awaiting the gulp of a new long century.
By the fruit and veg, I sponsor the Remarkables with my eyes.
Eternal death, its blank face pressed up to the roof window,
browses today's specials, cold mountain ghosting a customer.
from Manifesto Aotearoa ed. Emma Neale and Philip Temple
(Otago University Press)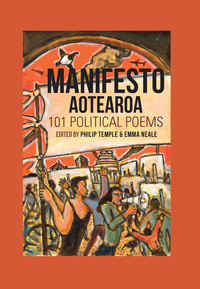 Richard Reeve
Richard Reeve is an Otago-based poet, editor and reviewer. His five collections of poetry to date are Dialectic of Mud (Auckland UP, 2001), The Life and the Dark (Auckland UP, 2004), In Continents (Auckland UP, 2008), The Among (Maungatua Press, 2008) and Generation Kitchen (Otago UP, 2015). Richard holds a PhD on 'New Zealand poetic reality', and is a lawyer by profession. While his poetry often is philosophical, he describes himself as 'as a poet of visceral themes and energetic language.'
Richard Reeve's Choice: 'Dropped Pin: Jollie Street'' by ​Michael Steven