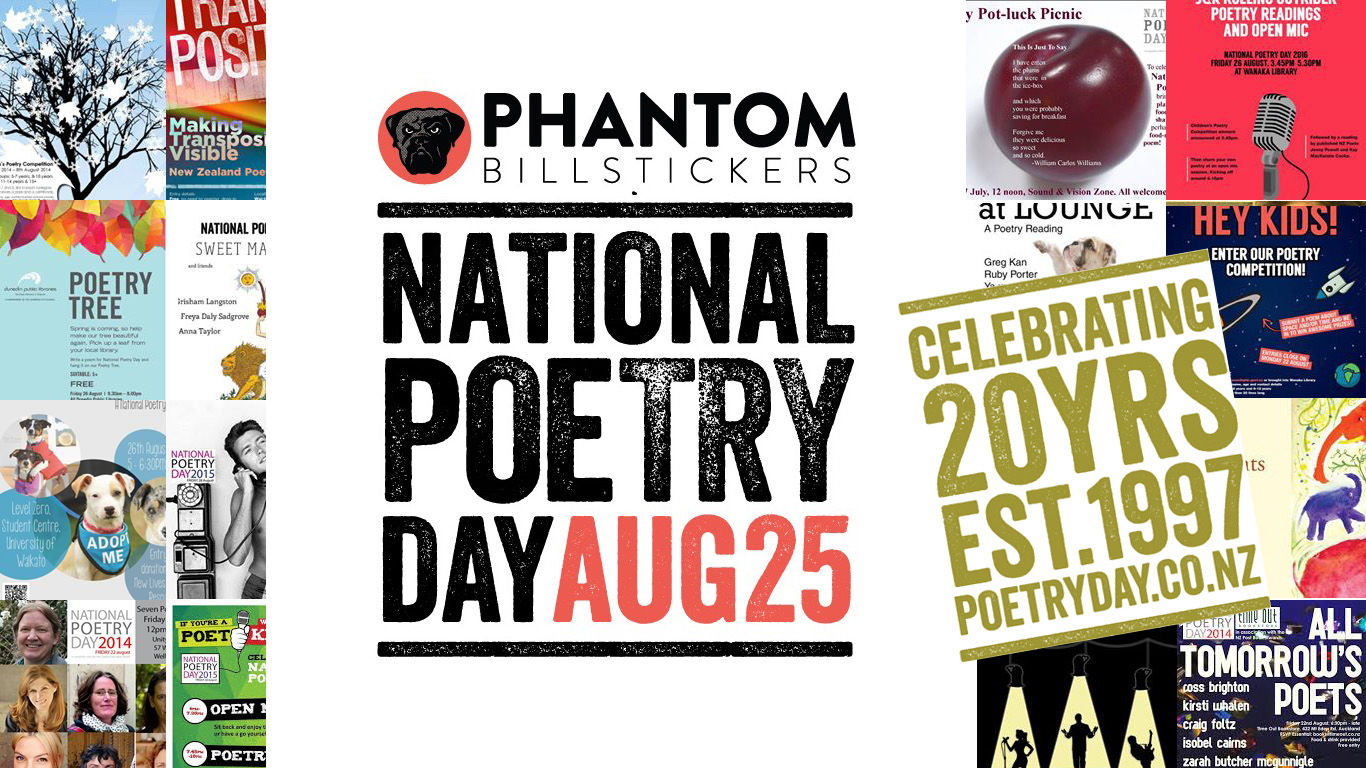 The 20/20 Collection
In 2017, to mark the 20th anniversary of Phantom Billstickers National Poetry Day, we asked 20 acclaimed Kiwi poets to choose one of their own poems – a work that spoke to New Zealand now. They were also asked to select something by another poet they saw as essential reading in 2017. The result is the 20/20 Collection, a selection of forty poems that reflect the diverse and vibrant range of voices in our contemporary literature.

The final, complete collection is available below, or you can download the free electronic version via this link: The 20/20 Collection. Follow this additional link for our Teachers' Notes.
The 20/20 poets, paired with their choice, are as follows: Jenny Bornholdt/ Ish Doney, Diana Bridge/ John Dennison, David Eggleton/ Leilani Tamu, Paula Green/ Simone Kaho, Michael Harlow/Paul Schimmel, Kevin Ireland/ Gregory Kan, Andrew Johnston/ Bill Nelson, Bill Manhire/ Louise Wallace, Selina Tusitala Marsh/ Reihana Robinson, Cilla McQueen/ David Kārena-Holmes, James Norcliffe/ Marisa Cappetta, Vincent O'Sullivan/ Lynley Edmeades, Tusiata Avia/ Teresia Teaiwa, Richard Reeve/Michael Steven, Elizabeth Smither/ Rob Hack, C. K. Stead/ Johanna Emeney, Robert Sullivan/ Ngahuia Te Awekotuku, Apirana Taylor/ Kiri Piahana-Wong, Brian Turner/ Jillian Sullivan, Alison Wong/ Chris Tse.

Welcome to our 20th anniversary celebration!
Becoming Girl
Jenny Bornholdt
Becoming girl. What was
that? The girl and
the becoming? Hair
like Venetian blinds, all
the lesser excellencies
turned to stone, the stone quarried
to become road – Eddy Ave
which leads to Carillon
where mothers count their way
to sanity – down which the bus travels
to where you need and most want
to go. To where you and your friend,
who you've known since you began
to remember, become zebras
as the light falls down the sky;
to where all your best answers
are afterwards. All the while becoming
girl, lost and tender as steak
or as the tree on an island
named for a Portugese exclamation,
the tree whose trunk you stroke
and all its branches quiver.
from Selected Poems
(Victoria University Press)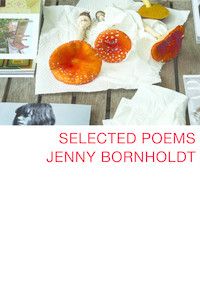 Jenny Bornholdt
Jenny Bornholdt was born in Lower Hutt in 1960 and lives in Wellington. She is the author of nine collections of poems and many chapbooks, and is the co-editor of several notable anthologies, including My Heart Goes Swimming: New Zealand Love Poems and the Oxford Anthology of New Zealand Poetry in English, which won the 1997 Montana New Zealand Book Award for Poetry. Her many honours include the Meridian Energy Katherine Mansfield Fellowship to Menton, 2002, and the Te Mata Estate New Zealand Poet Laureate, 2005–6.
Jenny Bornholdt's Choice: 'Miscarriage' by Ish Doney