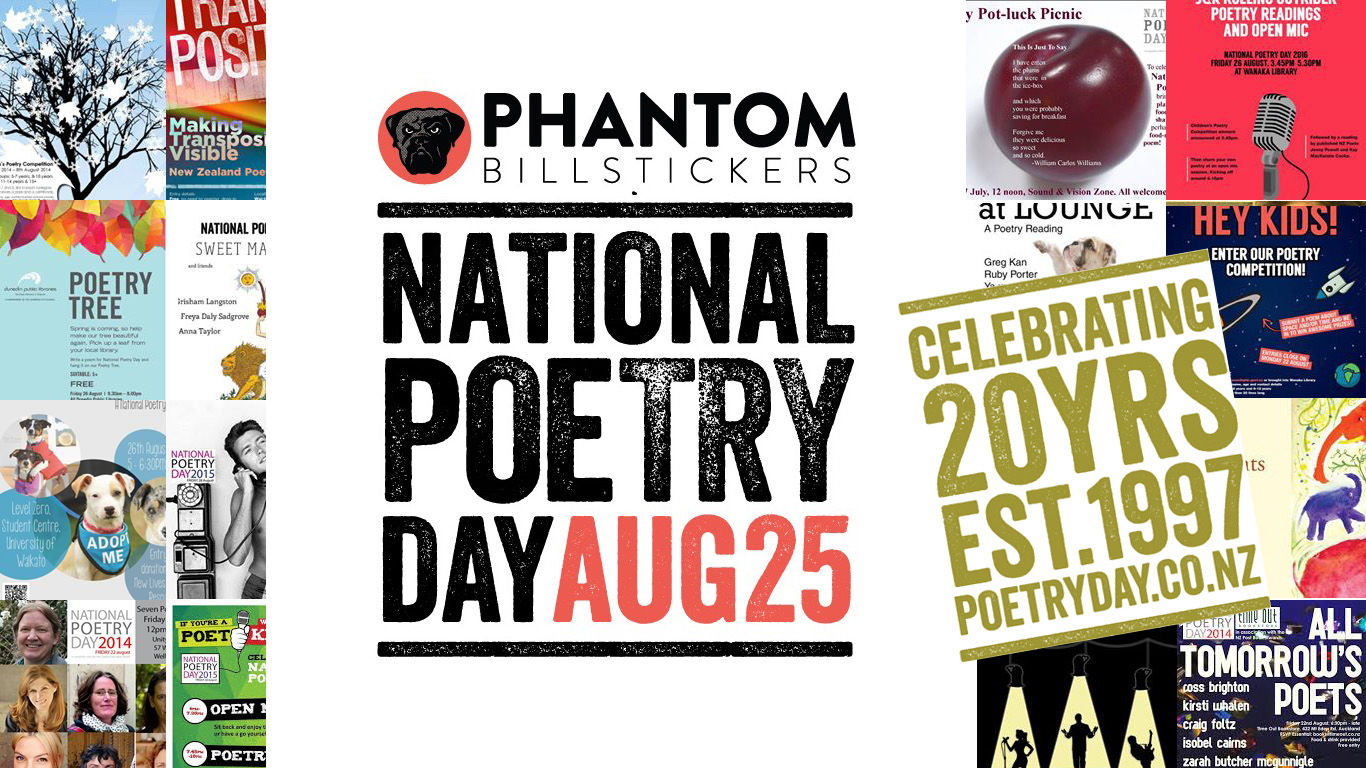 The 20/20 Collection
In 2017, to mark the 20th anniversary of Phantom Billstickers National Poetry Day, we asked 20 acclaimed Kiwi poets to choose one of their own poems – a work that spoke to New Zealand now. They were also asked to select something by another poet they saw as essential reading in 2017. The result is the 20/20 Collection, a selection of forty poems that reflect the diverse and vibrant range of voices in our contemporary literature.

The final, complete collection is available below, or you can download the free electronic version via this link: The 20/20 Collection. Follow this additional link for our Teachers' Notes.
The 20/20 poets, paired with their choice, are as follows: Jenny Bornholdt/ Ish Doney, Diana Bridge/ John Dennison, David Eggleton/ Leilani Tamu, Paula Green/ Simone Kaho, Michael Harlow/Paul Schimmel, Kevin Ireland/ Gregory Kan, Andrew Johnston/ Bill Nelson, Bill Manhire/ Louise Wallace, Selina Tusitala Marsh/ Reihana Robinson, Cilla McQueen/ David Kārena-Holmes, James Norcliffe/ Marisa Cappetta, Vincent O'Sullivan/ Lynley Edmeades, Tusiata Avia/ Teresia Teaiwa, Richard Reeve/Michael Steven, Elizabeth Smither/ Rob Hack, C. K. Stead/ Johanna Emeney, Robert Sullivan/ Ngahuia Te Awekotuku, Apirana Taylor/ Kiri Piahana-Wong, Brian Turner/ Jillian Sullivan, Alison Wong/ Chris Tse.

Welcome to our 20th anniversary celebration!
Rakaia
David Eggleton
Dark feather of the rainbird, riroriro,
sweeps over the ranges, bringing watercolours,
as the facets of ridges ripple with snow-melt,
and each angled rock-face spawns waterfalls,
clear threads woven to join the heart of water
beating in a youthful stampede of spring creeks
that pull apart to bolt through bush; so spiral,
purl, englobe boulders, and jostle back together,
forming a restless racing torrent that collects
brisk water, slow water, slack water, twirligig pools,
ravelling these ribbons and vines into a river strand
descending the mighty spine of the Southern Alps;
and gathering in the flurries of many tributaries,
until the Rakaia springs out of the mountains,
a wily and seasoned campaigner meandering
in lacy loops and twirls through channels,
the gravity of gravels a growl in river's throat:
Rakaia, visible portion of a continuous seepage
pulsing subterranean to the sea, flicking braids,
the gliding pulse of its groundwater going strong.
from The Conch Trumpet
(Otago University Press)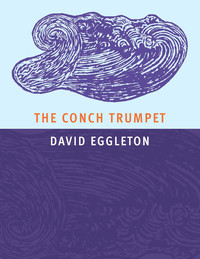 David Eggleton
David Eggleton who is of Rotuman, Tongan and Palagi ancestry, grew up in Fiji and South Auckland and now lives in Dunedin, New Zealand/Aotearoa. He is a poet, art critic, writer, editor and freelance journalist. Eggleton's first collection of poems was co-winner of the PEN New Zealand Best First Book of Poems Award (1987). He was awarded the Robert Burns Fellowship (1990), and won a substantial Copyright Licensing Ltd (CLL) Writers' Award (2004). Well-known as a performance poet, David has released several poetry recordings featuring his collaborations with musicians and been involved in poetry text collaborations with practitioners of a variety of other art forms, from sculpture to fashion design. Eggleton is the current Editor of Landfall, New Zealand's pre-eminent journal of arts and letters. His collection The Conch Trumpet won the Ockham Poetry Award (2017). He is also the 2017 recipient of the Fulbright-Creative New Zealand Pacific Writers' Residency Award.
David Eggleton's Choice: 'Avaiki Rain' by Leilani Tamu