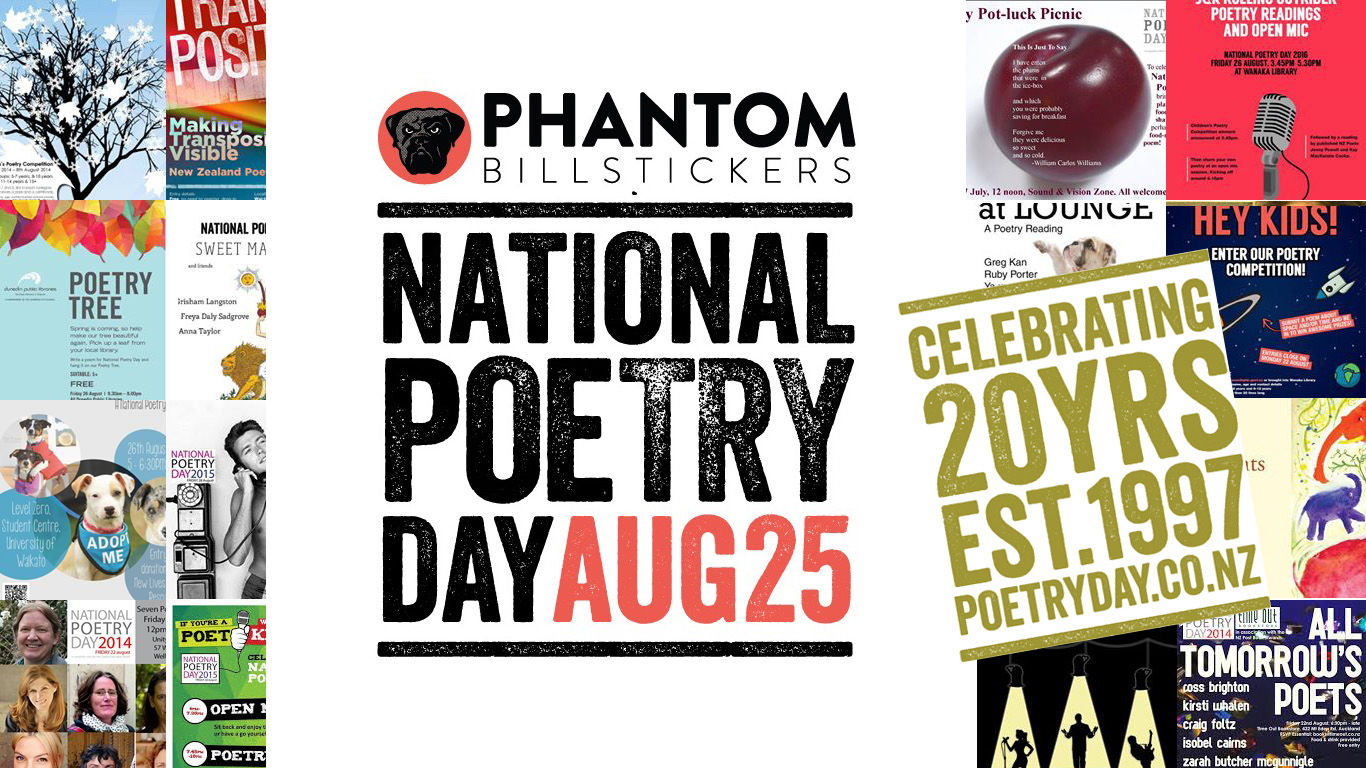 The 20/20 Collection
In 2017, to mark the 20th anniversary of Phantom Billstickers National Poetry Day, we asked 20 acclaimed Kiwi poets to choose one of their own poems – a work that spoke to New Zealand now. They were also asked to select something by another poet they saw as essential reading in 2017. The result is the 20/20 Collection, a selection of forty poems that reflect the diverse and vibrant range of voices in our contemporary literature.

The final, complete collection is available below, or you can download the free electronic version via this link: The 20/20 Collection. Follow this additional link for our Teachers' Notes.
The 20/20 poets, paired with their choice, are as follows: Jenny Bornholdt/ Ish Doney, Diana Bridge/ John Dennison, David Eggleton/ Leilani Tamu, Paula Green/ Simone Kaho, Michael Harlow/Paul Schimmel, Kevin Ireland/ Gregory Kan, Andrew Johnston/ Bill Nelson, Bill Manhire/ Louise Wallace, Selina Tusitala Marsh/ Reihana Robinson, Cilla McQueen/ David Kārena-Holmes, James Norcliffe/ Marisa Cappetta, Vincent O'Sullivan/ Lynley Edmeades, Tusiata Avia/ Teresia Teaiwa, Richard Reeve/Michael Steven, Elizabeth Smither/ Rob Hack, C. K. Stead/ Johanna Emeney, Robert Sullivan/ Ngahuia Te Awekotuku, Apirana Taylor/ Kiri Piahana-Wong, Brian Turner/ Jillian Sullivan, Alison Wong/ Chris Tse.

Welcome to our 20th anniversary celebration!
Into extra time
C.K. Stead
1
There are times (not many) when your whole life seems
an open book. Whatever takes place takes words
and the words are telling you
something. A biographer's wanting your life?
You read her letter as a word of warning.
--------------You want to improve your French?
Why not say so in verse? You battle your way
to the yellow buoy and feel an undertow –
--------------the lovely pull of language!
Nothing it seems is empty quite of meaning,
and meanings not given their due in nouns and
verbs are inclined to complain.
But when the thought comes to you from a poem
by Jaroslav Seifert that – for all your words –
what you really want is death
you say the time has come to stop this scribbling.
it's late. You'd like to sleep, but behind closed eyes
the words, like rats, are working.

2
Your books have read you too often. The songs of
your youth have forgotten you. This world's an ear
-------------..that listens for something new.
Your pictures that have stared down at you so long
see scarcely even the one that once you were –
------------.--and sometimes the yellow buoy
as you swim towards it murmurs to its chain
'Here he comes again,' but without excitement.
..................How easy for Captain Oates
to 'step outside for a moment' through that door
marked 'Hero's End'. But did he hesitate there
..................in the battering white-out
straining to catch a voice calling from within
'Oates, don't do this! Come back!' and hearing nothing –
..................nothing at all but the wind?
from The Black River
(Auckland University Press)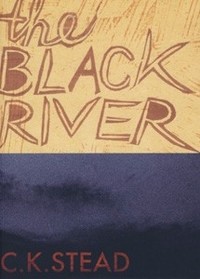 C.K. Stead
C. K. Stead was born in Auckland, New Zealand, in 1932. He has published more than 40 books and received numerous honours recognising his contribution to literature, including a CBE (1974), an Honorary DLitt from the University of Bristol (2001), the CNZ Michael King Fellowship (2005), and in 2009 both the $60,000 Prime Minister's Award for Fiction and the Montana New Zealand Book Award. In 2010 Stead won two international prizes: The Sunday Times EFG Private Bank Short Story Award and The Hippocrates Prize for Poetry and Medicine. He received our highest award, the Order of New Zealand, in 2007. Stead is the current New Zealand poet laureate for 2015–2017.
C.K. Stead's Choice: 'Subtext' by Johanna Emeney