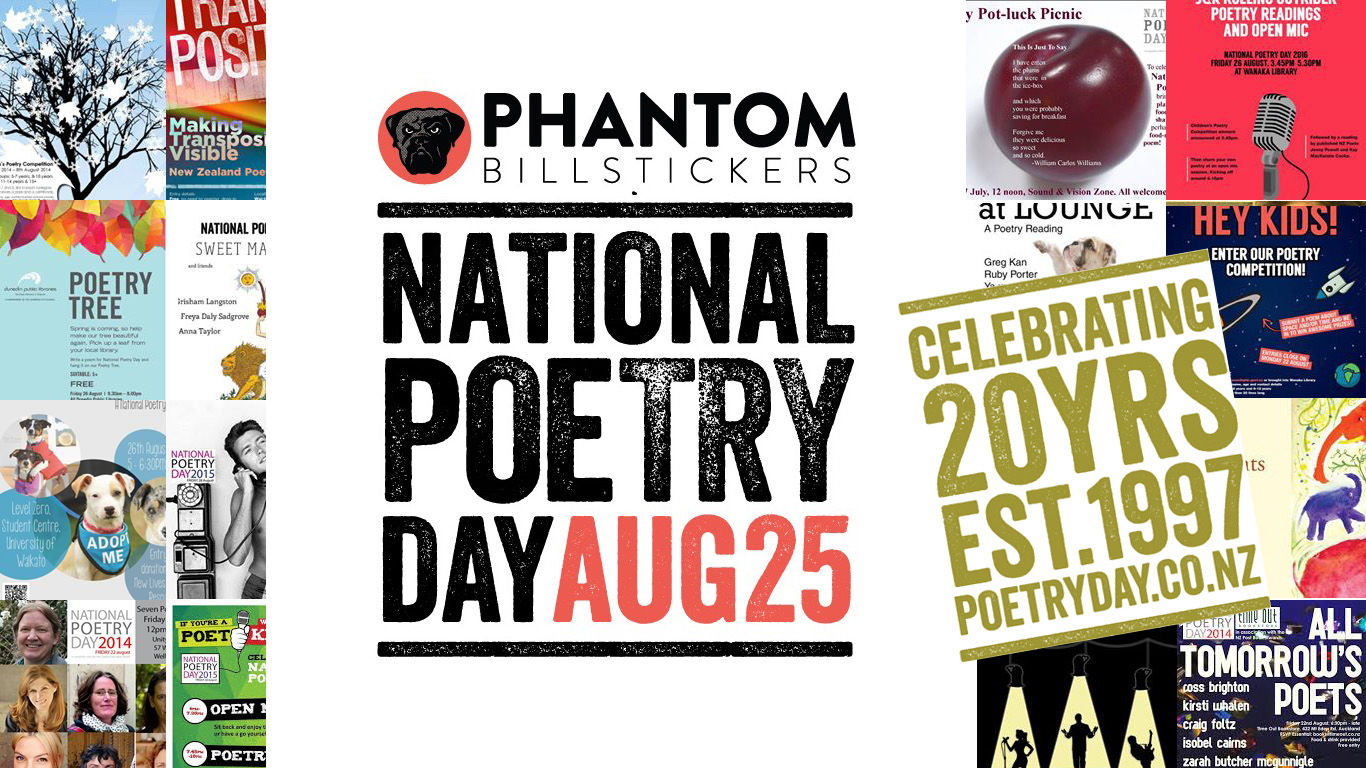 The 20/20 Collection
In 2017, to mark the 20th anniversary of Phantom Billstickers National Poetry Day, we asked 20 acclaimed Kiwi poets to choose one of their own poems – a work that spoke to New Zealand now. They were also asked to select something by another poet they saw as essential reading in 2017. The result is the 20/20 Collection, a selection of forty poems that reflect the diverse and vibrant range of voices in our contemporary literature.

The final, complete collection is available below, or you can download the free electronic version via this link: The 20/20 Collection. Follow this additional link for our Teachers' Notes.
The 20/20 poets, paired with their choice, are as follows: Jenny Bornholdt/ Ish Doney, Diana Bridge/ John Dennison, David Eggleton/ Leilani Tamu, Paula Green/ Simone Kaho, Michael Harlow/Paul Schimmel, Kevin Ireland/ Gregory Kan, Andrew Johnston/ Bill Nelson, Bill Manhire/ Louise Wallace, Selina Tusitala Marsh/ Reihana Robinson, Cilla McQueen/ David Kārena-Holmes, James Norcliffe/ Marisa Cappetta, Vincent O'Sullivan/ Lynley Edmeades, Tusiata Avia/ Teresia Teaiwa, Richard Reeve/Michael Steven, Elizabeth Smither/ Rob Hack, C. K. Stead/ Johanna Emeney, Robert Sullivan/ Ngahuia Te Awekotuku, Apirana Taylor/ Kiri Piahana-Wong, Brian Turner/ Jillian Sullivan, Alison Wong/ Chris Tse.

Welcome to our 20th anniversary celebration!
Sky
Brian Turner
If the sky knew half
of what we're doing
......down here
it would be stricken,
.....inconsolable,
and we would have
...nothing but rain
from Just This
(Victoria University Press)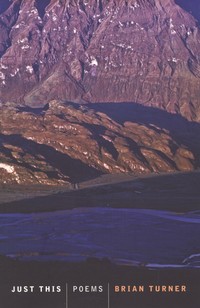 Brian Turner
Brian Turner was born in Dunedin in 1944 and lives in Central Otago. He is a poet, freelance journalist, editor and writer. His first book of poems Ladders of Rain (1978) won the Commonwealth Poetry Prize. This was followed by a number of highly-acclaimed poetry collections and award-winning writing in a wide range of genres including journalism, biography, memoir (Somebodies and Nobodies, 2002) and sports writing.
He has been the Robert Burns Fellow at the University of Otago and writer in residence at the University of Canterbury. In 2009 he was awarded the Lauris Edmond Award for Distinguished Contribution to Poetry and also received the Prime Minister's Award for Literary Achievement in Poetry. Brian Turner was named the Te Mata New Zealand Poet Laureate in 2003.
Brian Turner's Choice: 'Milking' by Jillian Sullivan