Q & A with Johanna Aitchison for National Poetry Day 2016
Johanna Aitchison writes, runs, and teaches in Palmerston North. Her first book, A Long Girl Ago (VUP) was shortlisted for best book of poetry in 2008, and her second book Miss Dust was published by Seraph Press in July last year.
She is one of four contemporary NZ poets featured in Poems in Your Pocket 2016 for National Poetry Day. Here she answers a few questions from our national coordinator Miriam Barr, about her work, her plans and her advice for new poets.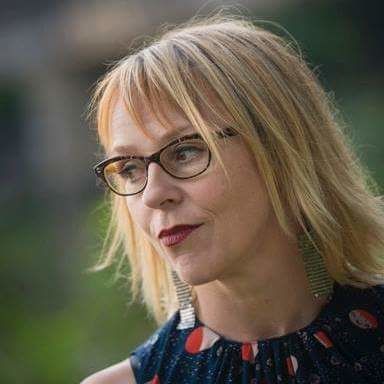 [Johanna Aitchison - photo by Tom Langdon]
1.Name three NZ poets you think everyone needs to read at least once in their life. Why?
Vivienne Plumb, because her verse is heartbreaking and funny.
Tusiata Avia, because no one writes like her and her work sears you.
Bill Manhire because his poems are achingly sad and annoyingly elusive.
[Catch Vivienne Plumb reading her work in Auckland at Poetry Live's warm-up celebration and at Divine Muses XIII on National Poetry Day]
2.What made you write the poem that appears in Poems in Your Pocket 2016?
This poem was ten years in the making. I tried to write it for my earlier volume, a long girl ago, but I couldn't get it to work. I had to write the poem because I had to make sense of the strange mix of grief and culture shock elicited by the trigger experience: The death of a student in Japan.
3.You recently published a book, what are you working on next?
I am writing An Autobiography of Miss Dust, which will be turned into a Phd.
4.What's one piece of advice you have for a brand new poet?
Be brave. Be stupid.
5.What are you doing on National Poetry Day this year?
Actually, National Poetry Day this year is on my birthday! My partner and I, plus fellow poet Helen Lehndorf, will be driving down from Palmerston North to read at Vic Books.
Find an event near you in the 2016 calendar of events.
Poems in Your Pocket is a poetry booklet you download online, print, fold, and pocket to share for National Poetry Day. A single page becomes a miniature poetry book featuring four NZ poets.