Sales and rights success for Acorn fiction winners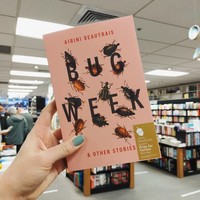 If hard evidence was ever required that the exposure delivered by the Ockhams New Zealand Book Awards breeds success, then the two most recent winners of the Jann Medlicott Acorn Prize for Fiction have provided it in abundance.
The 2021 winner, short story collection Bug Week by Airini Beautrais (Victoria University Press), was back off to the printers within days of the Ockhams ceremony, and then almost immediately again, doubling the numbers of its pre-announcement print-runs. And it's been a regular feature on bestseller lists since 12 May.
"The Acorn prize and its predecessors have always led to a sharp rise in sales and an instant reprint," says VUP publisher Fergus Barrowman. "And it's especially gratifying to a publisher like VUP when that happens to an undiscovered book like Bug Week."
2020 Jann Medlicott Acorn Prize for fiction winner, Auē by debut novelist Becky Manawatu. experienced a similar sales surge in New Zealand for publisher Mākaro Press, remaining on the bestseller lists for over a year. Now it's set for international acclaim, with Scribe Publications recently acquiring World English Language rights. High Spot Literary Agency, who brokered the deal, has also sold French language rights for the book to Au Vent des Îles.
But the 'Ockhams Effect' is not only felt by the fiction winners. Victoria University Press has also reprinted the recipient of the 2021 Mary and Peter Biggs Award for Poetry, The Savage Coloniser Book by Tusiata Avia, twice since it was shortlisted. Barrowman says they noticed a significance increase in the effect on sales of the Ockhams longlist and shortlist in 2021. "We had 11 books longlisted this year, and seven of those had to be reprinted at the longlist or shortlist stage."
"This shows how important the role of the Ockham New Zealand Book Awards is in recognising excellence and catalysing discovery," Barrowman says.
Revenue for book retailers from sales of titles shortlisted in the 2021 Ockham New Zealand Book Awards and tracked by Nielsen has exceeded $220,000 since the finalists were announced in early March.