New Book Award Named After Esteemed Historian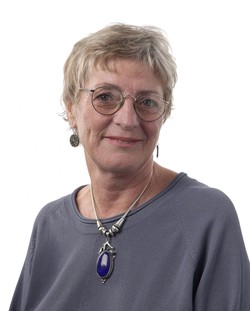 A new book prize – The Judith Binney Best First Book Award for Illustrated Non-Fiction - will be presented at the Ockham New Zealand Book Awards this year.
The award, named in honour of the late historian, Dame Judith Binney, brings the total of Best First Book awards being presented to four, the other three being The Jessie Mackay Award for Poetry, The Hubert Church Award for Fiction and The E H McCormick Award for General Non-Fiction.
The new award is inaugurated in the same year that Tangata Whenua: An Illustrated History, written by Judith Binney, Atholl Anderson and Aroha Harris, is a finalist in the 2016 Ockham New Zealand Book Awards Illustrated Non-Fiction open category.
Judith Binney's literary executor, Bridget Williams, is particularly delighted that this award acknowledges a 'best first book', as Judith Binney's contribution to the writing of New Zealand history began in her twenties with a ground-breaking book – The Legacy of Guilt: A Life of Thomas Kendall (1968) – that went on to win the F. P. Wilson Award for historical writing.
"To date there has only been one Best First Book award for non-fiction," says New Zealand Book Awards Trust chair Nicola Legat. "We felt that it was high time that two non-fiction writers of first books had the chance to win a prize, given that there are two non-fiction categories in the open awards. Naming it for Dame Judith Binney will each year connect a writer to a great and powerful legacy."
Judith Binney's own words speak of her dedication to the writing and teaching of history in New Zealand: 'If we who live in the present in Aotearoa can discuss our shared history in the nineteenth and twentieth centuries, then we may gain from the past. If we cannot do this, then we will have learnt nothing from the past and we will have exchanged nothing with each other.'
Judith Binney's other books include: Mihaia: The Prophet Rua Kenana and His Community at Maungapohatu (with Gillian Chaplin and Craig Wallace); Nga Morehu: The Survivors (with Gillian Chaplin);Redemption Songs: A Life of Te Kooti Arikirangi Te Turuki, winner of the Montana New Zealand Book of the Year Award; The Shaping of History: Essays from the New Zealand Journal of History; Encircled Lands: Te Urewera 1820–1921, winner of the NZ Post Book of the Year Award, and Stories Without End: Essays 1975–2010.
http://www.writersfestival.co.nz/programmes/event/ockham-new-zealand-book-awards/8011/
The awards ceremony is open to the public for the first time this year as part of the Auckland Writers Festival.
For further information please contact: Penny Hartill, director hPR, 09 445 7525, 021 721 424, penny@hartillpr.co.nz
Editor's Notes:
More information on the three other Best First Book Awards:
The Jessie Mackay Award for Poetry Awarded from 1940 by PEN NZ (later the New Zealand Society of Authors), and named for Jessie Mackay, the first locally born poet to achieve national prominence.
The Hubert Church Award for Fiction Awarded from 1945 by PEN NZ, and named for Hubert Church, a poet, novelist and critic who died in 1932.
The E H McCormick Award for Non Fiction Named for Eric McCormick, the eminent historian and biographer of Frances Hodgkins, who died in 1995.
The New Zealand Book Awards are the country's premier literary honours for works written by New Zealanders. First established in 1968 as the Wattie Book Awards (later the Goodman Fielder Wattie Book Awards), they have also been known as the Montana New Zealand Book Awards and the New Zealand Post Book Awards. The honours, now given for Fiction, Illustrated Non-fiction, General Non-Fiction and Poetry, as well as for Best First Book, are governed by the New Zealand Book Awards Trust (a registered charity).
Ockham Residential Limited is Auckland's most progressive developer, founded in 2009 by Mark Todd and Ben Preston. They describe themselves as urban regenerators, who love Auckland, and who want to see Auckland's urban built environment become as beautiful and as world class as its natural landscape. Their Ockham Foundation is a generous donor to schools and universities.
The Auckland Writers Festival is the largest literary event in New Zealand and the largest presenter of New Zealand literature in the world. Now in its 15th year, it hosts more than 150 writers from New Zealand and abroad over six days. Festival attendance increased 17 percent in 2015, to more than 62,000, following a 55 percent increase in 2014.