Manager for the New Zealand Book Awards Trust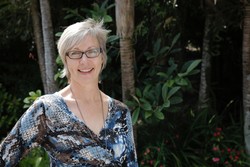 Former publisher Belinda Cooke has been appointed to the newly created position of Manager of the New Zealand Book Awards Trust.
Chair of the Trust Nicola Legat said the board was grateful to have secured funding from Copyright Licensing New Zealand to help appoint a part-time manager. This will enhance the delivery of the three properties the Trust manages – the Ockham New Zealand Book Awards, the New Zealand Book Awards for Children and Young Adults and Phantom Billstickers National Poetry Day.
"Belinda brings a wealth of experience and a cool head," Nicola Legat says. "She will work alongside me and the board to streamline the operational activities of the Trust and will be the primary contact with the bodies that so ably administer the two national book awards on our behalf."
New Zealand managing director of non-fiction publisher New Holland for 15 years, Belinda has held positions on the board of the Publishers Association and the governance board of New Zealand Book Month, and spent several years as a publisher representative on the management committee of the then Montana New Zealand Book Awards. She now runs her own marketing and communications consultancy and will continue to do so alongside the part-time role with the Trust.
"I'm thrilled to be returning such an active role within the industry," Belinda says. "I have great respect for the tireless work the entirely voluntary board, and in particular Nicola, dedicates to the Trust. I hope my presence will free them up from operational tasks so they can take the book awards and Poetry Day to even greater success."
The position begins with immediate effect, and Belinda can be reached on manager@nzbookawards.org.nz or 021 481044.