Becky Manawatu on what has changed since her stunning win at the 2020 Ockhams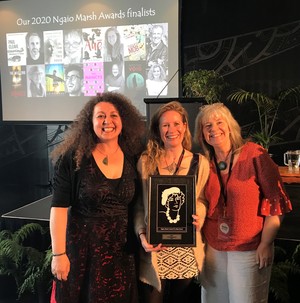 Writer Becky Manawatu's relatively quiet West Coast life has exploded since her stunning win of the $55,000 Jann Medlicott Acorn Prize for Fiction at the 2020 Ockham New Zealand Book Awards with her debut novel, Auē. Since then she's been travelling the country to writers' festivals, and at the recent WORD Christchurch, won the Best Novel for Auē in the Ngaio Marsh Awards for crime, mystery, thriller, and suspense writing.(She's pictured here with Ngaio Marsh Awards judge and event MC Vanda Symon on her left and Mākaro Press publisher Mary McCallum on her right.)
Becky generously took time out from her busy schedule to answer some questions about how her life has changed since May, and to offer some sage advice to other first time authors.
You've just won another major award with Auē. How have these wins affected your life?
Before the Ockhams award I just wrote and wrote and hoped, and tried to write some more. Now I can just write with the knowledge that someone (my editor Mary McCallum) will give my first draft a proper look. I don't have to force anything, and maybe that's less urgent but hopefully it allows me to write in an entirely different way than I have before.
Obviously the generous prize money from the Jann Medlicott Acorn Prize for Fiction at the Ockhams has made my family's life easier, but not really because we hid it from ourselves as we really want to use it for a deposit on our first home.
You hold down a day job as a journalist on the Westport News. How do you fit your writing regime in around this and your busy family life?
Lately I don't as much as I'd like. But I'm okay with just writing bits, or walking and thinking about the stuff I plan to write.
You've participated in several writers' festivals this year. How important is it to you to be able to interact and share the stage with other writers from Aotearoa?
It is special and exciting and a huge privilege to be part of festivals. I get to meet people I admire and learn from them, and learn from myself as I navigate the new experiences. It's a buzz, but with all buzzes there's eventually the comedown and I have found that makes me suffer a bit.
But there are really beautiful moments in those festivals. Aside from the on-stage conversations, there are the friends you make, and the time you get to spend with other writers and people in the industry.
Which other local or international novelists inspire you?
Tara June Winch, Zadie Smith, Ann-Marie MacDonald (OMG, her child characters!), Arundhati Roy, Trent Dalton and Clarissa Pinkola Estés are a few international faves.
Witi Ihimaera, Pip Adam, Keri Hulme, Tina Makereti, Renée, Patricia Grace, Elizabeth Knox, Alan Duff, Catherine Chidgey, Janet Frame, JP Pomare and MaryJane Thomson are just a few local faves.
However my local faves list is a bit longer because it includes writers whose essays I really love, including Emma Espiner, Talia Marshall and Tina Ngata. And writers who I get to read with my daughter: Shilo Kino, TK Roxborogh and Steph Matuku
Auē was a debut novel. What words of advice do you have for any other first time authors embarking on a book project?
Read lots. Editors are the best. It's gonna take ages and then you will want longer. Aim to help increase one single person's compassion for another single person. There is no other real point to stories except increasing another's compassion. But you might fail, which sux, but you gotta try anyway.
Dare we ask, is there another bestselling novel in the making, or a current writing project you can give us a hint about?
Dunno about bestselling, but yes, I am writing another novel, Papahaua, which I hope will become a very loose sequel to Auē. The story will be based near Waimangaroa and will be about friendship, manaakitanga and healing after abuse. It will include two characters from Auē, Katariana and Terry (Coon).