The HELL Reading Challenge
The HELL Reading Challenge is a well-established programme that has been hugely successful in getting tamariki reading and enjoying the pleasures of stories — with the bonus of free pizza rewards!
We are very excited to be continuing our partnership with HELL Pizza. Their enthusiasm for children's reading and generous ongoing commitment is awesome.
Teachers, librarians and parents have been telling us how the HELL Reading Challenge has hooked so many reluctant readers into books. We want even more young readers to discover the thrill of a great book.
The HELL Reading Challenge is free, and it is so easy! Children receive a stamp on their pizza wheel for each book they read. Once they have read seven books, children can exchange their completed pizza wheel for a free 333 kids' pizza at HELL.
To find out more about how the HELL Reading Challenge works, download the 2022 HELL Reading Challenge manual here
Schools and libraries can register for the HELL Reading Challenge and order pizza wheels here

If you're a parent or caregiver and want to get pizza wheels for your tamariki, please ask at your local library or school. If they're not participating already, it's still possible for them to join the 2022 HELL Reading Challenge.
If you have any questions about the HELL Reading Challenge, please email readingchallenge@nzbookawards.org.nz
You can also keep up to date with Reading Challenge news on the HELL Reading Challenge Facebook page
Download a poster for the 2022 HELL Reading Challenge here
Download a printable 2022 HELL Reading Challenge book review card here

Hell's Great NZ Book Trip
To add even more interest and incentive this year, we'll be offering libraries and schools the optional additional opportunity to take tamariki on Hell's Great NZ Book Trip, where they can discover the rich tapestry of New Zealand literature that takes them all around the country – whether it is the author, a location, or a setting in the story.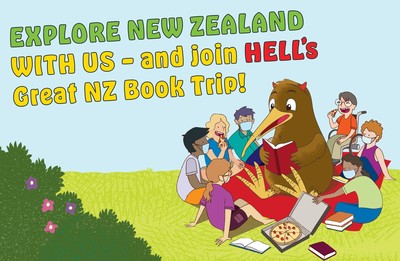 Hell's Great NZ Book Trip includes New Zealand themed teaching resources, such as unit plans and activities, and will continue to be updated throughout the year as we add author events, competitions, new activities and more!
Whether you would like to dip in and be inspired by a few resources, or journey with us through all the various unit plans and activities – we will leave that to you. What's important is that our tamariki are having fun and enjoying their reading journey. Wherever it takes them.
So come along on HELL's Great NZ Book Trip around New Zealand – we hope you enjoy what Aotearoa has to offer!
Teaching resources
Each resource can be used as an individual shared reading lesson, or as part of a unit of study on New Zealand authors. We hope that this is a great starting point in bringing more New Zealand content into your classroom. To help you on your own journey, we've included potential unit plans and activities to kickstart your own Book Trip.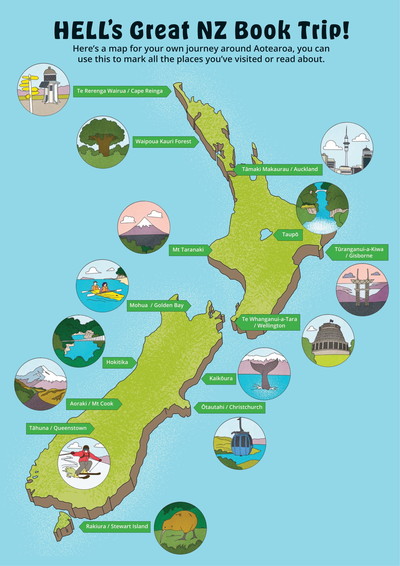 Year 3 & 4

Download the Year 3 & 4 Unit Plan
Download Year 3 & 4 Activities

Year 5 & 6

Download the Year 5 & 6 Unit Plan
Download Year 5 & 6 Activities

Track your journey on your very own map
To help tamariki track their own journeys around the motu, we've designed a map, where they can mark off places they've visited – either over the holidays or travelling by book. This can be used individually or in a classroom and library setting.
Author events

As part of HELL's Great NZ Book Trip, some of New Zealand's most loved children's authors and illustrators are being live-streamed to classrooms around the country.
Our final author event of 2022 will be on Wednesday 30 November, 9.30-10.30am, and will feature multi-award-winning author Joy Cowley.

Joy Cowley will read her book, The Tiny Woman's Coat, and will answer questions that have been sent in by children around the motu. To take part in this free online event, simply register your school/class or library using this online form. You will be emailed a link to the event by Tuesday 29 November.
And if you'd like to watch author readings and Q&A sessions that have already taken place as part of HELL's Great NZ Book Trip, you'll find recordings here.
2022 HELL Reading Challenge – Key dates
Registrations for the 2022 HELL Reading Challenge are now open.
Last date for ordering 2022 pizza wheels (stocks permitting): 3 December 2022
Last date for redeeming completed 2022 wheels: 31 January 2023
The New Zealand Book Awards Trust is very grateful to HELL Pizza for their sponsorship of the Reading Challenge. For more information on HELL and our other funders, click here.