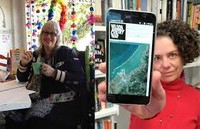 ---
You can apply for Phantom Billstickers National Poetry Day seed-funding to get your event started, to cover the basics such as poet fees, promotions, venue hire or special materials. You are encouraged to seek additional sponsors to help cover the full cost of running your event, should you require it.
Events will be considered for funding up to $200 regardless of where they take place, but will only be allocated to events with free, koha or low-cost entry. Preference for funding will be given to event organisers who register a number of events, activities with a large community audience, and events on the day itself.
Applications for seed-funding are submitted at the time of registration, using the online event registration form. Accordingly, they are due by 5pm Wednesday 22 May, 2019.
Please note that:
The registration form requires you to supply a budget detailing how funding will be spent.
Any funding which may be awarded is GST exclusive.
Those who are successful in gaining funding and who are registered for GST will need to provide an invoice that includes their GST and account info.
You will be advised whether your application has been successful by Tuesday June 4, 2019.
* Please note that seed-funding may not be used to cover administrative time or alcohol.
For information about running a competition.
For information on promoting your event.