2018 Phantom Billstickers National Poetry Day

Phantom Billstickers National Poetry Day 2018 hits New Zealand on Friday 24 August!
Last year's packed programme featured nearly 120 dynamic events, workshops and competitions, featuring acclaimed poets, new voices, young writers, and poetry enthusiasts. From slam poetry to sonnets, stages to pavements, people created and enjoyed poetry in a myriad of venues around the country: cafes, bars, schools, university campuses, community centres, retirement villages, marae, libraries and theatres – as well as on buses, trains and ferries.
Let's do it again!
Registrations are open NOW until 23 May 2018.
The 2018 Calendar of Events will be available 1 August.
In the meantime:
Scroll down for the 2018 Competition Calendar - it's live, it's growing.
Explore our dynamic and diverse anniversary celebration 20/20 Collection
View last year's Calendar of Events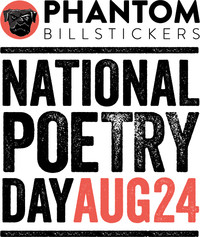 __________________________________________________________________________________________________
2018 Phantom Billstickers National Poetry Day Competitions
Welcome to our 2018 Phantom Billstickers National Poetry Day competition calendar. With a mixture of competitions - regional, nationwide and online, children and adult - everyone gets a chance to put pen to paper and release a poem out into the world. This calendar is live now, with progressively more competitions added as they open for submissions. Do check in regularly and see what's new as we head towards Phantom Billstickers National Poetry Day, Friday 24th August - and good luck!

---

NATIONWIDE

Poetry NZ Yearbook Student Poetry Competition
Calling all young poets! Entries are now open for the Poetry New Zealand Yearbook Student Poetry Competition.
Entry Details: Entry free. Send us your previously unpublished original poem and be in to win a copy of the 2018 Poetry New Zealand Yearbook for your school library and the 2017 edition for yourself. Poems can be of any length, any style and about any subject. Entries will be judged by Poetry New Zealand Yearbook editor Jack Ross. The 12 winners will be announced on Phantom Billstickers National Poetry Day August 24, 2018.
• When you enter please indicate whether you are a Year 11, Year 12, or year 13 student at a New Zealand school and please name your school
• Four prizes will be given in each of these three age-group categories
• Successful entrants must agree to their names and schools appearing in media and publicity for the award
Submission Dates: Open now - Entries close May 31 2018
Contact: Please send your entry to editorial@masseypress.ac.nz
Further Info: http://www.masseypress.ac.nz | Facebook


Red Room Poetry Object Competition 2018
Red Room Poetry Object invites students (Years 3-10) and teachers to write poems inspired by their own special and curious objects. Providing authentic publication outcomes and learning resources, Poetry Object is the largest free poetry-writing competition in Australasia. All participants can call themselves published poets, with all submissions featured in the Poetry Object digital library, visited by a worldwide audience of over 250,000 per year**. Three winning poems and a school installation will be awarded prize packs, with their poems featuring in an exciting public exhibition. (NB: Check the upcoming Phantom Billstickers National Poetry Day Calendar of Events for poetry workshops in Auckland).
Submission Dates: Opens Tuesday 10 April 2018. Competition Closes: Friday 22 September 2018 midnight AEST
Contact: poetryobject@redroomcompany.org
Further Info: redroomcompany.org/projects/poetry-object

________________________________________________________________________________________________________