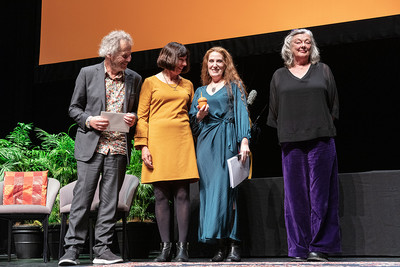 About the Awards
The Ockham New Zealand Book Awards are the country's premier literary honours for books written by New Zealanders. First established in 1968 as the Wattie Book Awards (later the Goodman Fielder Wattie Book Awards), they have also been known as the Montana New Zealand Book Awards and the New Zealand Post Book Awards.
Awards are given for Fiction (the Jann Medlicott Acorn Prize for Fiction), Poetry (the Mary and Peter Biggs Award for Poetry), Illustrated Non-Fiction (the Booksellers Aotearoa New Zealand Award for Illustrated Non-Fiction) and General Non-Fiction. There are also four awards for first-time authors and, at the judges' discretion, Te Mūrau o te Tuhi, a Māori Language Award.
Panels of three judges each are selected to judge each of the categories. Their longlists are announced in late January or early February, and the shortlist of 16 titles is revealed in early March. Winners are announced at an awards ceremony held in May each year, in collaboration with the Auckland Writers Festival. The 2023 ceremony was staged at the Kiri Te Kanawa theatre on Wednesday 17 May 2023.
Thanks to the generosity of the late Jann Medlicott, the winner of the Fiction Prize currently receives a minimum of $62,000. Winners of the other three principal category awards each receive $12,000, as does the winner of Te Mūrau o te Tuhi. Each of the four Best First Book prizes, supported by the Mātātuhi Foundation, are worth $3,000.
The Ockham New Zealand Book Awards are governed by the New Zealand Book Awards Trust Te Ohu Tiaki i Te Rau Hiringa (a registered charity), which also administers the New Zealand Book Awards for Children and Young Adults and Phantom Billstickers National Poetry Day.